By Patrick O'Dowd
English Professor Armando Prats said something that stuck in Elijah Edwards' head, "We are, in great measure, the living expression of our influences."
It's a powerful sentiment that recent English graduate Edwards reflects in his own story.
Edwards, a Kentucky native from Harrodsburg, came to the University of Kentucky in 2009 as a secondary English education major but quickly picked up two more: English and linguistics. That might seem like a lot to take on in four years, but for Edwards the workload was made manageable due to the nature of degrees from the College of Arts and Sciences, which help students explore diverse fields of knowledge.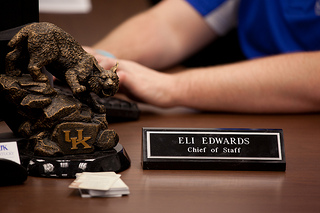 In the midst of all that, Edwards also served three terms as a Student Government Senator, one term as Senate President, and is now Chief of Staff for the executive branch.
What most attracted Edwards to majoring in English, however, was the number of inspiring faculty filling the hallways. "I think that's one of the best parts of the English department. We have a lot of acclaimed professors in their different fields as well as many published authors," said Edwards.
Once immersed in the major, Edwards found himself drawn towards a wide spectrum of topics within English, from war poetry and film with professors Pearl James and Armando Prats, to Kentucky literature. He found this latter area to be particularly rewarding because of the rich connection that the department's faculty holds to the state's body of letters.
One of the classes that stood out focused on Appalachian literature and was taught by Erik Reece, author of the celebrated book Lost Mountain. "It was cool to be in his class. We would read stories by Gurney Norman and then be able to walk down the hall and talk to him. And then, of course, there is Nikky Finney [National Book Award winner] and now Frank X Walker is Kentucky's Poet Laureate."
Edwards also realized that the skills he was learning to apply as an English major were ones that carried far beyond the walls of the classroom. "Writing is almost everything these days," Edwards reasoned. "Taking writing specific courses where you learn about your style and the style of different writers is really important. The best way to become a good writer is to read the work of others, adopt their style, and then finally discover your own."
Yet, the act of discovering your own—whether it's your written voice or what shape your life will take—is far from simple. That's why Edwards appreciated one particular story Professor Prats told him during a discussion about his future plans.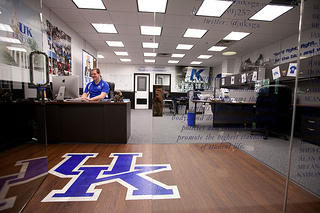 Prats had once been in a similar predicament as Edwards around the same time in life. That was when one of Prats' mentors told him to look into his heart, figure out what it was he wanted to do, and then do it without concern for what others thought. To Edwards, for Prats to pass along that same advice to him meant a great deal, "That was really cool because this is advice that was almost 140 years in the making. I can't wait until I'm 70 years old one day and able to impart that advice on someone else."
Now, a graduate of the class of 2013, looking ahead towards graduate school and a career teaching high school students about the literature that means so much to him, Edwards can look back and see how special of an education he received. "To me, the value of the humanities and English is that you are actually spending time living. It was Abraham Lincoln who said, 'It's not the years in your life that count. It's the life in your years.' I like how with the humanities you're allowed to study that life."