American Enchantment
Oxford University Press, 2018
The demise of the monarchy and the bodily absence of a King caused a representational crisis in the early republic, forcing the American people to reconstruct the social symbolic order in a new and unfamiliar way. Social historians have routinely understood the Revolution and the early republic as projects dedicated to and productive of reason, with "the people" as an orderly and sensible collective at odds with the volatile and unthinking crowd. American Enchantment rejects this traditionally held vision of a rational public sphere, arguing that early Americans dealt with the post-monarchical crisis by engaging in "civil mysticism," not systematic discussion and debate. By evaluating a wide range of social and political rituals and literary and cultural discourses, Sizemore shows how "enchantment" becomes a vital mode of enacting the people after the demise of traditional monarchical forms. In works by Charles Brockden Brown, Washington Irving, Catharine Sedgwick, and Nathaniel Hawthorne--as well as in Delaware oral histories, accounts of George Washington's inauguration, and Methodist conversion narratives--enchantment is an experience uniquely capable of producing new forms of popular power and social affiliation. Recognizing the role of enchantment in constituting the people overturns some of the most common-sense assumptions in the post-revolutionary world: above all, that the people are not simply a flesh-and-blood substance, but also a mystical force.
Black Girlhood in the Nineteenth Century
University of Illinois Press, 2016
Long portrayed as a masculine endeavor, the African American struggle for progress often found expression through an unlikely literary figure: the black girl. Nazera Sadiq Wright uses heavy archival research on a wide range of texts about African American girls to explore this understudied phenomenon. As Wright shows, the figure of the black girl in African American literature provided a powerful avenue for exploring issues like domesticity, femininity, and proper conduct. The characters' actions, however fictional, became a rubric for African American citizenship and racial progress. At the same time, their seeming dependence and insignificance allegorized the unjust treatment of African Americans. Wright reveals fascinating girls who, possessed of a premature knowing and wisdom beyond their years, projected a courage and resiliency that made them exemplary representations of the project of racial advance and citizenship.
The Fluid Boundaries of Suffrage and Jim Crow: Staking Claims in the American Heartland
Lexington Books, 2016
The Fluid Boundaries of Suffrage and Jim Crow: Staking Claims in the American Heartland engages in an important conversation about race relations in the twentieth century and significantly extends the historical narrative of the Civil Rights Movement. The essays in this collection examine instances of racial and gender oppression in the American heartland—which is conceived of here as having a specific cultural significance which resists diversity—in the twentieth century, instances which have often been ignored or overshadowed in typical historical narratives. The contributors explore the intersections of suffrage, race relations, and cultural histories, and add to an ongoing dialogue about representations of race and gender within the context of regional and national narratives
World War I And American Art
Princeton University Press, 2016
Essay included by Pearl James
Territories of Empire: U.S. Writing from the Lousiana Purchase to Mexican Independence
Oxford University Press, 2014
"Andy Doolen has provided a compelling and detailed historical account of the development of American empire, which challenges a number of elements of the received story. In addition, through an examination of the 'territory effect', the book demonstrates the multiple practices and texts--legal, political, economic, literary and cartographic--which together constitute the production of territory."--Stuart Elden, author of The Birth of Territory
The New Death: American Modernism and World War I
University of Virginia Press, 2013
Adopting the term "new death," which was used to describe the unprecedented and horrific scale of death caused by the First World War, Pearl James uncovers several touchstones of American modernism that refer to and narrate traumatic death. The sense of paradox was pervasive: death was both sanctified and denied; notions of heroism were both essential and far-fetched; and civilians had opportunities to hear about the ugliness of death at the front but often preferred not to. By historicizing and analyzing the work of such writers as Willa Cather, Ernest Hemingway, F. Scott Fitzgerald, and William Faulkner, the author shows how their novels reveal, conceal, refigure, and aestheticize the violent death of young men in the aftermath of the war. These writers, James argues, have much to say about how the First World War changed death's cultural meaning.
The Embattled Wilderness: The Natural and Human History of Robinson Forest and the Fight for Its Future
University of Georgia Press, 2013
Erik Reece and James J. Krupa
Robinson Forest in eastern Kentucky is one of our most important natural landscapes—and one of the most threatened. Covering fourteen thousand acres of some of the most diverse forest region in temperate North America, it is a haven of biological richness within an ever-expanding desert created by mountaintop removal mining. Written by two people with deep knowledge of Robinson Forest, The Embattled Wilderness engagingly portrays this singular place as it persuasively appeals for its protection.
The land comprising Robinson Forest was given to the University of Kentucky in 1923 after it had been clear-cut of old-growth timber. Over decades, the forest has regrown, and its remarkable ecosystem has supported both teaching and research. But in the recent past, as tuition has risen and state support has faltered, the university has considered selling logging and mining rights to parcels of the forest, leading to a student-led protest movement and a variety of other responses.
In The Embattled Wilderness Erik Reece, an environmental writer, and James J. Krupa, a naturalist and evolutionary biologist, alternate chapters on the cultural and natural history of the place. While Reece outlines the threats to the forest and leads us to new ways of thinking about its value, Krupa assembles an engaging record of the woodrats and darters, lichens and maples, centipedes and salamanders that make up the forest's ecosystem. It is a readable yet rigorous, passionate yet reasoned summation of what can be found, or lost, in Robinson Forest and other irreplaceable places.
Campsites: Sex, Politics, and Academic Style in Postwar America
Stanford University Press, 2013
Reading across the disciplines of the mid-century university, this book argues that the political shift in postwar America from consensus liberalism to New Left radicalism entailed as many continuities as ruptures. Both Cold War liberals and radicals understood the university as a privileged site for "doing politics," and both exiled homosexuality from the political ideals each group favored. Liberals, who advanced a politics of style over substance, saw gay people as unable to separate the two, as incapable of maintaining the opportunistic suspension of disbelief on which a tough-minded liberalism depended. Radicals, committed to a politics of authenticity, saw gay people as hopelessly beholden to the role-playing and duplicity that the radicals condemned in their liberal forebears.
Camp Sites considers key themes of postwar culture, from the conflict between performance and authenticity to the rise of the meritocracy, through the lens of camp, the underground sensibility of pre-Stonewall gay life. In so doing, it argues that our basic assumptions about the social style of the postwar milieu are deeply informed by certain presuppositions about homosexual experience and identity, and that these presuppositions remain stubbornly entrenched despite our post-Stonewall consciousness-raising.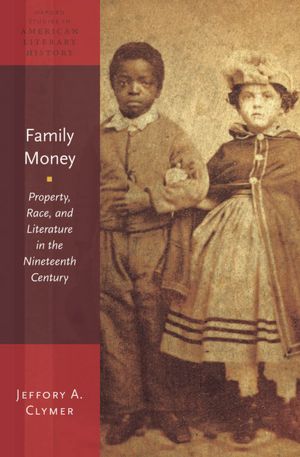 Family Money: Property, Race, and Literature in the Nineteenth Century
Oxford University Press, 2012
Family Money explores the histories of formerly enslaved women who tried to claim inheritances left to them by deceased owners, the household traumas of mixed-race slaves, post-Emancipation calls for reparations, and the economic fallout from anti-miscegenation marriage laws. Authors ranging from Nathaniel Hawthorne, Frank Webb, Harriet Beecher Stowe, Charles Chesnutt, to Lydia Maria Child recognized that intimate interracial relationships took myriad forms, often simultaneously-sexual, marital, coercive, familial, pleasurable, and painful. Their fiction confirms that the consequences of these relationships for nineteenth-century Americans meant thinking about more than the legal structure of racial identity. Who could count as family (and when), who could own property (and when), and how racial difference was imagined (and why) were emphatically bound together. Demonstrating that notions of race were entwined with economics well beyond the direct issue of slavery, Family Money reveals interracial sexuality to be a volatile mixture of emotion, economics, and law that had dramatic, long-term financial consequences.
Literate Zeal: Gender and the Making of a New Yorker Ethos
University of Pittsburgh Press, 2012
Dr. Eldred examines the rise of women magazine editors during the mid-twentieth century and reveals their unheralded role in creating a literary aesthetic for the American public.
Getting Inside Your Head: What Cognitive Science Can Tell Us About Popular Culture
Johns Hopkins University Press, 2012
Getting Inside Your Head uses research in theory of mind to look at movies, musicals, novels, classic Chinese opera, stand-up comedy, mock-documentaries, photography, and reality television. It follows Pride and Prejudice's Mr. Darcy as he tries to conceal his anger, Tyler Durden as he lectures a stranger at gunpoint in Fight Club, and Ingrid Bergman as she fakes interest in horse races in Notorious.

This engaging book exemplifies the new interdisciplinary field of cognitive cultural studies, demonstrating that collaboration between cognitive science and cultural studies is both exciting and productive.
Charlotte Temple (Norton Critical Editions)
W. W. Norton and Company, 2010
This Norton Critical Edition of Susanna Rowson's Charlotte Temple sets America's first bestselling novel in the context of its contemporary moment, its transatlantic influence, its authorial biography, its vibrant critical discourse, and its century-long status as a widely read and frequently republished staple of US literary exchange. A central text for book history, gender studies, affect studies, transatlantic discourse, cultural geography, and the rise of the American novel, Charlotte Temple remains frequently read in and out of classrooms from its first American publication in 1794 through the present day.

Prodigal Daughters: Susanna Rowson's Early American Women
University of North Carolina Press, 2008
Susanna Rowson--novelist, actress, playwright, poet, school founder, and early national celebrity—bears little resemblance to the title character in her most famous creation, Charlotte Temple. Yet this best-selling novel has long been perceived as the prime exemplar of female passivity and subjugation in the early Republic. Marion Rust disrupts this view by placing the novel in the context of Rowson's life and other writings. Rust shows how an early form of American sentimentalism mediated the constantly shifting balance between autonomy and submission that is key to understanding both Rowson's work and the lives of early American women.
Fugitive Empire: Locating Early American Imperialism
University of Minnesota Press, 2005
In Fugitive Empire, Andy Doolen investigates the relationships among race, nation, and empire in colonial and early national America, revealing how whiteness and American identity were conflated to stabilize racial hierarchy and to repulse challenges to national policies of slavery, war, and continental expansion. Doolen concludes that imperial authority lies at the heart of American republicanism, an unstable mixture of idealism, force, and pragmatism, wielded in the name of freedom even today.
An American Vein: Critical Readings in Appalachian Literature
Ohio University Press, 2005
Danny L. Miller, Sharon Hatfield, and Gurney Norman
Many writers from the mountains have found success and acclaim outside the region, but awareness of the region itself as a thriving center of literary creativity is not widespread. The editors of An American Vein have remedied this, producing the first general collection of Appalachian literary criticism. What's more, it holds the promise of introducing new readers, nationally and internationally, to the Appalachian literature and its relevance to our times.
America's Culture of Terrorism: Violence, Capitalism, and the Written Word
University of North Carolina Press, 2003.
Although the terrorist attacks of 11 September 2001 shocked the world, America has confronted terrorism at home for well over a century. With the invention of dynamite in 1866, Americans began to worry about anonymous acts of mass violence in a way that differed from previous generations' fears of urban riots, slave uprisings, and mob violence. Focusing on the volatile period between the 1886 Haymarket bombing and the 1920 bombing outside J. P. Morgan's Wall Street office, Jeffory Clymer argues that economic and cultural displacements caused by the expansion of industrial capitalism directly influenced evolving ideas about terrorism.
Cruising Modernism: Class and Sexuality in American Literature and Social Thought
Cornell University Press, 2003
Modern society, Michael Trask argues in this incisive and original book, chose to couch class difference in terms of illicit sexuality, Trask demonstrates of sexual science's concept of erotic perversion mediated the writing of both literary figures and social theorists when it came to the innovative and unsettling social arrangements of the early twentieth century.
Imagining Rhetoric: Composing Women of the Early United States
Pittsburgh University Press, 2002.
Janet Carey Eldred
and Peter Mortensen
This book examines how women's writing developed in the decades between the American Revolution and the Civil War and how women imagined using their education to further the civic aims of an idealistic new nation.
Invisible Natives: Myth & Identity in the American Western
Cornell University Press, 2002.
This book casts a critical eye on the representation of Native Americans in the Western film since the genre's beginnings. Armando Jose Prats shows the ways in which film reflects cultural transformations in the course of America's historical encounter with "the Indian." He also explores the relation between the myth of conquest and American history. Among the films he discusses at length are Northwest Passage, Stagecoach, The Searchers, Hombre, Hondo, Ulzana's Raid, The Last of the Mohicans, and Dances with Wolves.
Confronting Appalachian Stereotypes: Back Talk from an American Region
The University of Kentucky Press, 2000
Dwight Billings, Gurney Norman, and Katherine Ledford
Dismayed by national critics' lack of attention to the negative depictions of mountain people in Robert Schenkkan's 1992 Pulitzer Prize-winning play, The Kentucky Cycle, a group of Appalachian scholars rallied against the stereotypical representations of the region's people that repeatedly appear in print and pop culture. In Confronting Appalachian Stereotypes, historians, literary scholars, sociologists, creative writers, and activists talk back to the American mainstream, confronting head-on those who would view their home region one-dimensionally.

Dramas of Solitude: Narratives of Retreat in American Nature Writing
SUNY Press, 1998.
SUNY Series, Literacy, Culture, and Learning: Theory and Practice
Roorda brings the insights of narrative theory to bear upon the genre of nature writing, to explore the social or ethical purposes of solitude in stories of retreat in nature. This book complicates social views of literacy with depictions of a solitude held in dynamic relation to a not-only-human community. It will inform the efforts of literary critics and writing teachers alike who hope to reintegrate English studies upon ecological terms.
Flatlining on the Field of Dreams: Cultural Narratives in the Films of President Reagan's America
Rutgers University Press, 1997
Flatlining on the Field of Dreams demonstrates, with witty prose and careful analysis, how the overindulgent, image-conscious years of the Reagan administration are reflected in sundry aspects of American films produced during that era. Discussing dozens of films, Alan Nadel identifies narratives about credit, deregulation, gender, race, and masculinity that defined "President Reagan's America." The book provides hard-to-ignore demonstrations of the extensive synergy between politics, history, and pop culture.
Hide and Seek: The Child between Psychoanalysis and Fiction
University of Illinois Press, 1995
In response to widespread cultural fantasies about the child- including childhood innocence, the child as origin of the adult, the fetal emergence of subjectivity, and the "inner child" movement-Hide and Seek examines representations of the child in fiction, psychoanalysis, and popular culture.

Containment Culture: American Narratives, Postmodernism, and the Atomic Age
Duke University Press, 1995
Examining a broad sweep of American culture, from the works of George Kennan to Playboy Magazine, from the movies of Doris day and Walt Disney to those of Cecil B. deMille and Alfred Hitchcock, Nadel discloses the remarkable persuasiveness of the containment narrative. Drawing on insights provided by contemporary theorists he situates the rhetoric of the cold war within a gendered narrative powered by the unspoken potency of the atom. He then traces the breakdown of this discourse of containment and ties its collapse to the onset of American postmodernism.

May All Your Fences Have Gates: Essays on the Drama of August Wilson
University of Iowa Press, 1994
Henry Louis Jr. Gates and Alan Nadel
This stimulating collection of essays, the first comprehensive critical examination of the work of two-time Pulitzer Prize-winning playwright August Wilson, deals individually with his five major play and also addresses issues crucial to Wilson's canon: the role of history, the relationship of African ritual to African American drama, gender relations in the African American community, music and cultural identity, the influence of Romore Bearden's colleagues, and the politics of drama.
Invisible Criticism
University of Iowa Press, 1991
This new reading of a classic work examines Ellison's relation to and critique of the American literary canon by demonstrating that the pattern of allusions in Invisible Man forms a literary-critical subtext which challenges the accepted readings of such major American authors as Emerson, Melville, and Twain. Modeling his argument on Foucault's analysis of the asylum, Nadel analyzes the institution of the South to show how it moved blacks from "enslavement" to "slavery" to "invisibility"—all in the interest of maintaining an organization of power based on racial caste. He then demonstrates the ways Ellison wrote in the modernist/surreal tradition to trace symbolically the history of blacks in America as they moved not only from the nineteenth century to the twentieth, and from the rural South to the urban North, but as they moved (sometimes unnoticed) through American fiction.