Poet Frank X Walker to Join UK Faculty
Frank X Walker - co-founder of the Affrilachian Poets, widely published writer, founder of a journal of Affrilachian culture, and recipient of numerous writing and teaching awards - will join the faculty of the University of Kentucky in January 2010. Walker has accepted a position in the UK College of Arts and Sciences Department of English, where he will teach in the Creative Writing Program as an associate professor. As he returns to his alma mater, Walker will also bring with him Pluck! The Journal of Affrilachian Arts and Culture, which he founded in 2007.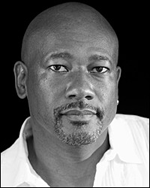 "The college is thrilled Frank will be joining the English department and bringing with him expertise in Affrilachia," said Mark Lawrence Kornbluh, dean of the College of Arts and Sciences. "Frank's multidisciplinary approach, focused in an area often unexplored, is one that will benefit our students, the college and the university greatly."
Walker, who originated the word "Affrilachia" to describe the culture of African Americans living in the Appalachian region, is a UK alumnus. He graduated in 1996 with a bachelor's degree in English and holds a Master of Fine Arts in Writing from Spalding University in Louisville. Walker has held academic positions at the University of Louisville, Eastern Kentucky University and Transylvania University. He comes to the UK faculty following an appointment as Writer-In-Residence at Northern Kentucky University.
Walker is the author of five books, including "When Winter Come: The Ascension of York" (2008), "Black Box" (2006), "Buffalo Dance: The Journey of York" (2004), "Affrilachia" (2000) and "Eclipsing a Nappy New Millenium" (1997). He edited the 2007 anthology "America! What's My Name," and has published four chapbooks, entries in five additional books of poetry, and numerous journal and magazine entries and essays.
Walker has served as founder and executive director of the Bluegrass Black Arts Consortium, the program coordinator of the University of Kentucky's Martin Luther King, Jr. Cultural Center and the assistant director of Purdue University's Black Cultural Center. He was awarded an honorary doctorate by UK in 2000, and by Transylvania University in 2002.
He was the recipient of the 2006 Thomas D. Clark Literary Award for Excellence, the 2005 Lannan Literary Fellowship in Poetry and the Actors Theatre Keeper of the Chronicle Award.
Walker has held board positions within the Kentucky Humanities Council, Appalshop and the Kentucky Writers Coalition, as well as an appointment to the Kentucky Cabinet for Education, Arts and Humanities and the Committee on Gifted Education. He has served as vice president of the Kentucky Center for the Arts and as the executive director of Kentucky's Governor's School for the Arts.
At UK, Walker will primarily teach within the Department of English Creative Writing Program.
"The Department of English is delighted that Frank X Walker will join us in January 2010," said Thomas Clayton, department chair. "Frank's creative and pedagogical talents will greatly enhance our Creative Writing Program, and our faculty and students are looking forward to his arrival."
Walker, who has a history of hands-on involvement with the community, has plenty of ideas for teaching and outreach up his sleeve.
"I look forward to numerous new opportunities developed in cooperation with other faculty and members of the UK community, including a statewide "Everybody Reads" program to compliment the upcoming World Equestrian Games, as well as a re-imagined Homecoming celebration that would attract African-American alumni back to UK in the greatest numbers ever," said the new professor.
Said Walker: "I'm very excited about returning to UK. The opportunity to join such an elite collection of scholars and writers, and to have a supportive institutional home for Pluck! is a blessing and a privilege."
by Allison Elliott