By Julie Wrinn
Phillis Rambsy (M.A. 1999) grew up in Jackson, Tennessee, and attended Spelman College in Atlanta surrounded by English majors who planned to attend law school. But for Rambsy, also an English major, going to law school just felt too obvious. "I was sick of people talking about law school. So many English majors go to law school, and I felt that was all I heard people talking about was LSATs and law school rankings," said Rambsy.
That contrarian spirit made her an especially receptive audience for a recruiter from the University of Kentucky. In Rambsy's senior year at Spelman, hoping to get extra credit in one of her classes, she agreed to attend a UK representative's talk about graduate programs. That representative was English professor and now Department Chair Jonathan Allison.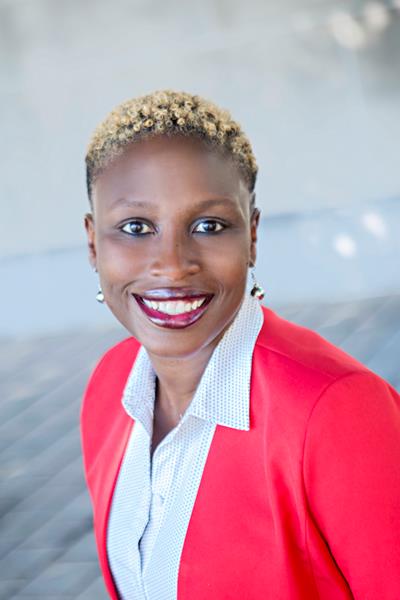 "I met a small group of seniors at Spelman, introduced by Professor Anne Warner," said Allison. "I was delighted when Phillis decided to visit the UK campus and then to apply to our M.A. program. She was a very successful student."
Despite no previous interest in attending graduate school, Rambsy was persuaded. "As a college senior, I drove up to UK, toured the campus, and met the people in the English Department," said Rambsy. "And I guess as they say, the rest is history. I'm from a family of educators, and so I always knew I wanted to have my hands a little bit in education, even if not full time, because I was so passionate about the education of Black people particularly, of marginalized people, and so this opportunity came up and I thought, I'll be a professor."
Ramsby vividly remembers her first day on campus, walking through the halls of Patterson Office Tower in search of someone whom her Spelman professor had recommended that she connect with: Nikky Finney. "I go by her door, and her back is turned, and all I see is dreadlocks," recalls Rambsy. Finney was already becoming nationally renowned for her poetry, for which she eventually won a National Book Award, and became an informal mentor to Rambsy. Other UK professors who taught some of Rambsy's favorite courses were John Cawelti and Lulamae Fragd.
Having minored in Women's Studies at Spelman, Rambsy was already inclined towards an interdisciplinary course of study, and in the graduate English program at UK, she took this a step further, taking multiple classes outside of the English Department. "I was able to make connections all across campus," she recalls, including at the Martin Luther King Jr. Center, where she later became a program coordinator, and courses with History Professor Gerald Smith. "And of course the Women's Studies Department," said Rambsy. "Where would I be without them? Rest in peace to Joan Callahan and Jan Oaks. I do not think I would have made it out of anywhere without those two."
Ramsby also took courses with renowned creative writing professor James Baker Hall, and he encouraged her to submit one of her stories to the Betty Gabehart Prize, awarded by the Kentucky Women Writers Conference. Rambsy won the prize and read her story at the conference.
After resisting law school for so long, it was a national tragedy that finally prompted Rambsy to take the leap in that direction. "I'm an accidental attorney, I tell people," she said, and the phrase seems apt considering her circuitous path to a legal career. A classmate in the English Department who had been pursuing a Ph.D. and switched to UK law school encountered Rambsy on the elevator in POT. She said to Rambsy, "You should take the LSAT. I think it's the kind of test that your mind works like. If you take it, I'll buy you a cocktail."
Rambsy signed up for the LSATs but wasn't emotionally invested in it, still planning to earn a Ph.D. in English. She was at a pub in Lexington around midnight when she remembered that her LSAT was the next day. Her mother had recently been working with underrepresented students on how to take standardized tests, and Rambsy thought that if nothing else, taking the LSATs herself might enable her to pass on tips to her mom for those courses. The next morning, she took the test, having not studied one bit.
Receiving her scores months later, Rambsy misinterpreted them as low score because she thought they were on the same scale as the GREs. Only when she mentioned her scores to a friend did Rambsy realize that she'd knocked it out of the park on the LSATs. Yet she still wasn't ready to commit to law school. LSAT scores expire after five years, and after four years, Rambsy still hadn't applied to law school. During that time she completed her M.A. in English and was working at UK as an adjunct professor and coordinator in the King Center while considering whether to pursue a Ph.D. in English.
On the morning of September 11, 2001, she taught an 8 a.m. class. "I'm coming out of the classroom building and students are running by saying there was a plane crash," she recalled. "I get to the King Center, and as I'm turning on the TV there, that is when the second plane flew into the building." She thought, "This is a crazy time in history, this is a tragic time, but it's also probably a time to do what you never thought you would do." With all classes and activities cancelled for the remainder of that week, she filled her time by completing law school applications.
And so, after years of resisting a field that her talents so clearly qualified her for, Rambsy finally enrolled at the University of Michigan Law School. She returned to Lexington in the 2000s to practice law but was determined to remain involved with the literary world here. She attended talks and readings and would email former professors asking to see their current syllabi. She also joined the Board of the Kentucky Women Writers Conference.
"I always believe in stepping outside of what's familiar to you," explained Rambsy. "Too many people compartmentalize their lives, but I don't think that's how we should live. I still wanted to be connected with the literature world and with the art and magic that books bring to us."
Passing four bar exams—always on the first try—has enabled Ramsby to practice law in Kentucky, Tennessee, Maryland, and Washington D.C. It's such an extraordinary accomplishment that I had to ask how she does it.
"Test taking is a science and an art form too," allowed Rambsy, "and it doesn't necessarily speak to intelligence, which is why in so many areas now you are having people realize that standardized tests really do work against most underrepresented people, marginalized. I happen to be a good test taker, but I'm an advocate that standardized tests are not fair."
For each bar exam, Rambsy had the money to pay for the exam, the money to pay for the expensive study aids, and the ability to take time off to study. "I never worried how am I going to pay for the test and eat? Or if I take off time from work there's some child or family member who would not eat. That makes a difference. So when we talk about standardized tests being inherently unfair, those are some of the things that I'm talking about. Not just the material on the test, but also the circumstances."
Phillis went on to highly successful stints as a litigation attorney and partner at a number of outstanding firms. In 2018 she founded her own firm, Rambsy Law, where she handles matters involving complex commercial litigation matters, personal injury actions, and employment disputes. She represents clients in areas of wrongful termination; sexual harassment; race, gender, and age discrimination; and discrimination based on disability. She also represents clients in contract matters, including contract negotiations for employment and severance contracts, and disputes involving non-compete agreements.
In all of these types of cases, Rambsy calls upon skills honed in her study of literature. "I love storytelling," she said. "I love to read a good story, and I love to dissect a good story. That's really all you're doing in the law. In a lot of my work for marginalized or underrepresented people, mostly in the employment realm, that's all you're doing. You're telling a story. You're saying, this is how my client has been damaged. This is what my client feels. You have to be a good storyteller. You have to know your characters. We learn that as literature majors. Know your characters. And you're convincing other people of a story. You have to be persuasive."
And she's not letting up on her determination to stay current with the literary world. "I made a personal pact with myself that I'm going to read a fiction book each month," Rambsy said. Her current favorite novel that she highly recommends is The Personal Librarian, by Marie Benedict and Victoria Christopher Murray, based on the true story of Belle da Costa Greene, who was forced to hide her true identity and pass as white when she was hired by the financier J. P. Morgan to curate a collection of rare manuscripts, books, and artwork for his newly built Pierpont Morgan Library.
During the isolation of the pandemic, Rambsy attended dozens of readings and lectures online. "I went to like five of DaMaris Hill's book talks because they were all online," she said, referring to the UK English professor who was touring internationally with her best-selling poetry collection, A Bound Woman Is a Dangerous Thing, until the pandemic forced her to shift her events to online. Rambsy is hopeful that online events will continue even after the pandemic subsides so she can stay connected to her Kentucky literary roots. "Kentucky has one of the richest literary souls of anywhere in the world," she said. Now honored as the English Department's Alumna of the Year in 2021, Phillis Rambsy is firmly a part of that soul.