MFA Student Makalani Bandele's Abstract Approach to Poetry Takes Home Autumn House Prize
By Madison Dyment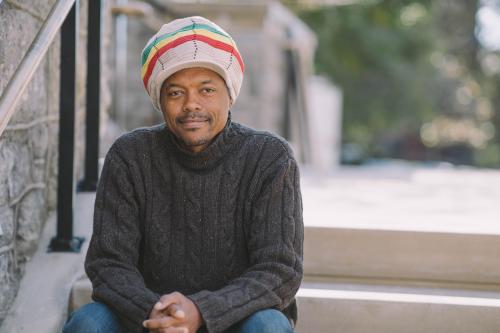 The true art of writing is the many forms through which it can be expressed. The beauty of one of its most obscure forms, poetry, is not lost on UK College of Arts & Sciences' MFA student, Makalani Bandele, who recently won the Autumn House Press Poetry competition for his latest poetry book. 
Bandele, hailing from Louisville, discovered his love of poetry as an undergraduate student at the University of Notre Dame. After taking an introductory poetry class, he found the style resonated with him over other forms of writing and frequently engaged in the craft. 
"I love to hear people tell stories but my mind just can't handle the huge banquet that a novel provides," Bandele said. "With poetry, I'm able to give people a succinct idea while still exploring many different themes in that short piece." 
Noting his skill, a former undergraduate professor encouraged Bandele to continue his schooling through an MFA program. However, driven by an innate need to serve others, Bandele chose to pursue ministry post-graduation after working as a community organizer for the Alliance Against Racial and Political Repression.
"I grew up in the church and was always told I'd be a minister someday," Bandele said. "I eventually had a call experience and got a master's in divinity from Shaw University Divinity School and ended up pastoring in North Carolina." 
It was during his first sabbatical that he felt the pull back to poetry. The combination of having more time to write and a growing dissatisfaction with his ministry work, Bandele began to rediscover his passion for the written word and reached out to friend and fellow Kentucky poet, Frank X Walker. 
"In my ministry, I wasn't able to accomplish what I wanted in terms of really serving people," Bandele said. "I sent [Walker] some poems and he told me I could still pursue writing if I really wanted to."
Bandele left the ministry and threw himself into writing. While working a regular 9-5 job, he turned out numerous poems and even wrote his first poetry book in 2011.
"I decided that I wanted to see if I could really make a living off of writing, so I decided to come to UK for their MFA program," Bandele said. 
UK's young program had a level of faculty diversity that appealed to Bandele immediately. Other connections with people such as Walker and UK associate professors and writers Crystal Wilkinson and DaMaris Hill, solidified his decision. 
Back in Kentucky, Bandele immersed himself in service, working with environmental groups in eastern Kentucky, teaching creative writing with underprivileged youth, helping the Kentucky Center for the Arts in Louisville, and conducting workshops with Jefferson County public schools and Louisville community centers.
"Originally, I didn't go into writing because I didn't see how I could have an impact on people," Bandele said. "I felt a little foolish after because as a writer, what you do with your life outside writing can be of service. I feel like I'm having more impact now as a writer than I did as a minister."
Bandele continues to use his gifts to serve others. Aside from presenting poetry at fundraisers for his environmental groups, he frequently writes pieces that speak to contemporary issues. 
"I try to write poems that stay relevant and can reach people," Bandele said. 
Despite this facet of his work, Bandele's true poetic voice has a much narrower audience. Many of his published work delves into the intersection between music, visual art and poetry with an emphasis on abstract relation. 
"Poetry is already very abstract and I write the kind of poetry that even poets have difficulty understanding," Bandele said. "While more people can appreciate abstract art, abstract poetry is less mainstream but I try to give it a voice in my work."
An abstract presentation of music, the human condition and contemporary themes are the basis for Bandele's latest book. As an appreciator of jazz music, Bandele was inspired by the life and tribulations of the late jazz pianist, Earl Rudolph "Bud" Powell, who was prominent in the '40s and '50s. Powell became the focal point of the book. 
"Aside from being an important figure to jazz, the story of his life was very tragic and relevant for our contemporary age," Bandele said. "He dealt with mental illness during a time when it was so stigmatized and his neurological problems were triggered by being a victim of police brutality."
Powell avoided the skeptical drugs given to patients with mental illnesses at that time and self-medicated through alcoholism and heroin abuse. These factors added to his relevance today in Bandele's mind, connecting him to current opioid and drug abuse epidemics. 
"I felt like trying to talk and deal with someone whose life was rife with these issues and being hospitalized and stigmatized was very relevant," Bandele said. "His issues plagued the rest of his life, making him a tragic but relevant figure to explore."
Despite basing the book on Powell, Bandele chose a unique multi-vocal perspective for the poems. 
"I tried to write from the perspective of friends, other musicians that were critical of his life and from Powell's perspective when he's in full grasp of his mental faculties," Bandele said. "But other perspectives are from his other personalities or talking about his improvisation with the music, his emotions and feelings."
Bandele completed his manuscript and began sending out individual poems in November of 2018. After receiving minimal publications, he concluded the individual poems were not as strong as he hoped and reached out to a friend and poet, Kyle Coma-Thompson, another former UK graduate. After honing in and editing roughly half the manuscript, the tides began to turn in Bandele's favor. 
"Within a month of sending the new work out, I started getting publications at a ridiculous rate," Bandele said. "Within about 2 months I got around 20 poems published. I knew it was only a matter of time until it did something big."
Bandele sent his manuscript to the Autumn House Press for the poetry competition. The manuscript went through a series of readers and judges throughout the process. Eventually, the uniqueness and impactful nature of his work won out and he was declared the winner. 
"I really felt that as a whole, it was just compelling. Reading the poems together, you can really get the story and narrative of this man's life even if the poems aren't narrative themselves," Bandele said. "I knew that once the poems were tight and could stand alone as individuals and appeal to people, putting them together would be taken to a new level."
As a prize, Bandele's book will be published and he will be given a monetary reward to be put towards royalties and travel and publicity for the piece. This tied in perfectly with Bandele's future plans. 
With his rigorous coursework for his MFA coming to a close, Bandele intends to travel to promote his book after its 2020 publication before graduating in 2021. He will use this opportunity to do readings and workshops with his book while promoting. Despite this busy schedule, Bandele has not let up with his future ambitions. 
"I really just want to be able to have my eye on the next project, too," Bandele said. "I'm always trying to think onward."