Kentucky City Names Development after A&S English Professor Gurney Norman
Note: Photo is courtesy of Katie Kelley of the Hazard Herald. Photo shows Gurney Norman with Mandi Fugate Sheffel.
By Richard LeComte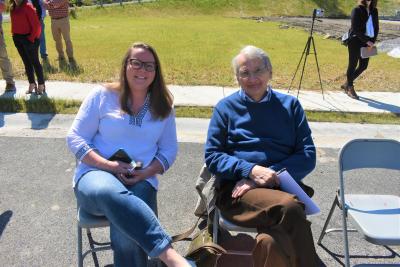 LEXINGTON, Ky. – Gurney Norman received an unusual honor of late when a Kentucky town named an affordable-housing development after him. 
Norman, professor of English in the University of Kentucky's College of Arts & Sciences, was named Poet Laureate for the Commonwealth of Kentucky 2009 and is known for such works as "Kinfolks: The Wilgus Stories" and "Divine Right's Trip: A Folk-Tale." His most recent book, "Allegiance: Stories," is due out in the summer of 2021 in hardcover from Old Cove Press, distributed by Ohio University Press. 
And now he's the namesake of Gurney's Bend outside Hazard, Kentucky. 
Work on the 15-house subdivision is moving into its final phase, according to an article in the Hazard Herald. More information can be found here. Hazard and the Housing Development Alliance are collaborating on creating Gurney's Bend. 
"Every house in this new community, said officials with the HDA, is affordable for low-income families, and to date, all 15 lots available in Gurney's Bend have been pre-sold to qualifying families in HDA's Homeownership Program," according to the Herald. 
Norman spoke on May 11 at a wall-raising for Gurney's Bend, which is in an area known as Allais, a former coal town just northeast of Hazard. The endeavor is part of the Allais Redevelopment Project. 
"It is very moving to me to see new life return to Allais. Allais is being born again, literally, and it will be a very different place," Norman said in his remarks. "The thought that this field will before long have 15 modern homes built around it is poetic to me as modern families will live in modern homes around this field. It has felt strange to me that this place would have the name Gurney's Bend. Of course, it's an honor to me but also to my grandfather, Gurney Wesley Norman. Thank you to everyone who has worked so hard to make this happen. I look forward to returning to Gurney's Bend many times over the years. Maybe I can come here and get straightened out." 
For a full text of his remarks, go here.  
Norman graduated from UK as an English and Journalism major in 1959, and he returned UK in 1979 as a professor of creative writing. In 2007, the Appalachian Studies Association gave him the Helen M. Lewis Community Service Award, which recognizes contributions to Appalachia.