By Sarah Geegan, Amanda Osborn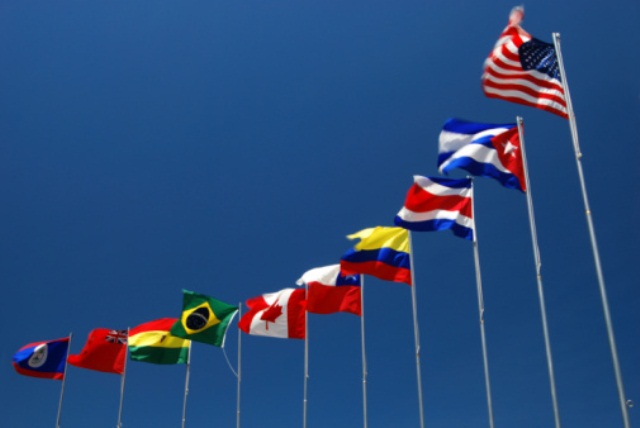 Imagine being a University of Kentucky student in Lexington, but sharing a "global classroom" with students in China, France or India.  In collaboration with the associate provost for International Affairs and the Center for the Enhancement of Learning and Teaching (CELT), the UK College of Arts and Sciences recently established a program called Global Classroom Connections that will promote international learning and experiences through the use of contemporary technology.
As university graduates increasingly require international perspectives, skills and knowledge to succeed in the multicultural and interconnected world, Global Classroom Connections seeks to expand these opportunities through the use of new technologies, allowing students to gain international experiences independent of financial or other constraints.
Arts and Sciences began using the program in March.  It is designed to provide cross-cultural experiences and possibly even help develop friendships among students at UK and in other countries. Global Classroom Connections also allows faculty to collaborate with institutions outside of the U.S. through electronic links between courses.
During the spring semester, A&S asked faculty to propose links between A&S courses and courses at institutions outside the U.S. Five courses were chosen for the first set of Global Classroom Connections courses.
Among them is a class taught by Ann Kingsolver, director of the Appalachian Center and the Appalachian Studies Program. Kingsolver proposed to link APP 200 at UK and a course at India's University of Delhi in a dual exploration of mountain and hill regions, specifically Appalachia and the Himalayas.
"I believe that every university student, not just those who are able to study abroad, should have the opportunity to learn through international collaboration with students in other countries," Kingsolver said. "In the spring of 2013, my Global Appalachia students at UK and professor Subhadra Channa's students in a graduate course at the University of Delhi will all do two readings in common: one book on Appalachia and one book on the Himalayan region."
Kingsolver said that she and Channa will each give background lectures to the classes. Channa plans to record her lecture in the fall while visiting UK for a conference that the UK Appalachian Center is planning.
"I will be visiting her classroom next spring, and the students will discuss the readings with each other by Skype," Kingsolver said.
Another Global Classroom Connections will link SOC 343 and a course at Sun Yat-Sen University in China. Taught by Thomas Janoski of the Department of Sociology, the course will focus on the theme of civil society in China and the U.S.
History professor Kathi Kern will provide a link between HIS 405 and a similar course at Sourbonne Nouvelle in France, explaining the history of American women after 1900.
Janice Fernheimer of the Department of English will partner with Al-Qods University in Palestine. Combining ENG 440 and 441 with a similar course at the partner institution, the class will explore the representations of the Eastern Mediterranean area and the Holy Land, focusing especially on travel writing and literature.
Also from the Department of English, Randall Roorda will lead a course linking ENG/WRD 401 and a course at Masaryk University in the Czech Republic. Students will study in detail the regional landscapes and the natural and cultural histories of Kentucky and Moravia.
Ted Schatzki, senior associate dean in the College of Arts and Sciences, said the program will benefit students in multiple ways. "By interacting with students in other countries through discussions, presentations and joint projects, our students will become a little more knowledgeableabout the world and a bit more capable of negotiating differences," Schatzki said. "It is also hoped that faculty will be energized to pursue deeper and more extensive connections between UK and institutions in other countries."
The courses chosen to participate in the program will take advantage of synchronous and asynchronous technologies such as videoconferencing, social media, wikis and blogs.
The college will support the development of these links through course development funding, technical assistance and travel expenses that allow UK faculty to meet with their partner instructors to plan the links. CELT and the College of Arts and Sciences' Hive will provide technical support for all links.