English Department Hires Post-Colonial Literature Scholar for Two-Year Post-Doctoral Fellowship
By Richard LeComte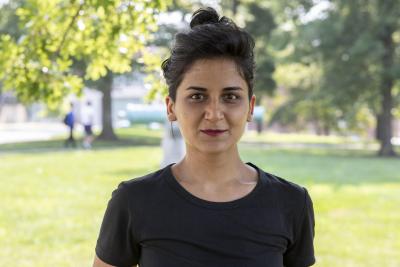 LEXINGTON, Ky. -- The College of Arts & Sciences has grabbed an opportunity to bring a scholar of post-colonial literature onto the faculty to expand the range of offerings to University of Kentucky students who want to find new ways of looking at fiction. 
Jap-Nanak K. Makkar is pursuing a two-year American Council of Learned Societies post-doctoral fellowship in the Department of English. At the end of the fellowship, her position will be moved to a tenure-track assistant professorship. 
"It's almost two years ago now that the ACLS announced this post-doctoral partnership initiative grant designed to diversify departments in the humanities in higher education," said Peter Kalliney, professor of English. "Departments and institutions apply to ACLS for this grant and propose that they'd like to hire in a specific field. We suggested that we'd like to hire in 20th- and 21st-century global literature. ACLS agreed to fund a two-year postdoctoral fellowship. The expectation is that the person who takes that fellowship would then transition into a tenure-track job." 
Kalliney said the department's search committee chose Makkar from more than 100 applicants. Her expertise is in post-colonial literature, particularly by African, Caribbean and South Asian writers, and helps round out the areas of interest the English department can offer.  
"We now have three scholars whose work is about the global dimensions of literature," he said "It's been a growing area of English studies for several years now. Jap-Nanak is going to contribute to both the undergraduate and graduate mission of our institution." 
Makkar, who earned degrees from the University of Toronto and the University of Virginia, has focused her scholarship on post-1945 fiction from the formerly colonized world; she mentions the South African writer Nadine Gordimer and the Kittitian-British writer Caryl Phillips as among the authors she is writing about.   
"When I examine post-colonial fiction, I'm trying to determine how these authors are influenced by theories that frame language as a system or structure," she said. "It's a way of thinking that really affects the way these novelists think about race, class, cultural difference and even justice." 
She's writing a book that mixes such established ideas about post-structuralism – a study of systems in literature – with contemporary theories about technological and information systems.  
"What's different about my research is that I look at post-colonial fiction and its relationship to post-Structuralism on the one hand and the history of technology on the other hand," Makkar said. "That's relatively different and new in my field. Few scholars work at the intersection of post-colonial studies and media studies, but I think it's rarer still to find scholars looking at the legacy of cybernetics and information theory – that legacy's impact on post-colonial fiction." 
Her interest in post-colonial literature has influenced the scope of her teaching: She's planning on teaching a wide range of fiction in English that transcends international boundaries.  
"I have a course coming up called Literature Across Borders," she said. "There are several ways to teach a course with this title, because there are several ways to approach literature transnationally, but I'll be teaching it with a post-colonialist emphasis. That means that students will discuss the legacy of colonialism in contemporary fiction, and investigate the relationship between economic conquest and literary form. I'll be teaching at different levels over my two years in the department. A fourth-year seminar will cover theories of postcolonialism and globalization, and a first-year course will introduce students to global literature in English." 
And Makkar sees teaching about colonialism and post-colonialism as key to helping UK students understand history and the structure of the contemporary world.  
"As a field, it forces us to focus on something that's not popularly understood," she said. "People in the European world and the American world don't have a sound understanding of the history of colonialism. Undergraduate students or young adults really don't have a sense of what colonialism was. But we live with its legacy – it shaped the world." 
Now Makkar, who was born in India and grew up in Toronto, has made Kentucky part of her world, and she's found UK a warm and inviting place for her two-year fellowship and beyond.  
"Lexington has been great, and my colleagues have made us feel at home," she said. "I've received a really warm welcome."