Chris Green: A Life of Literature, Horses, and Law
By Julie Wrinn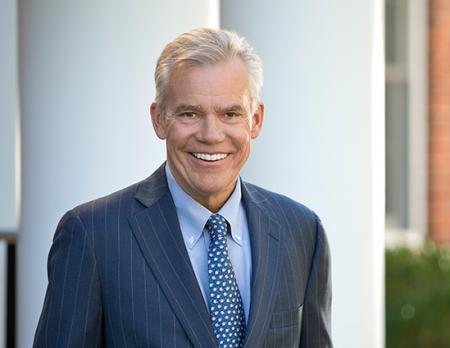 Chris Green ('93 B.A.) majored in English for the usual reason: he loved to read. His path to that degree, however, and to his success as a partner in the internationally prominent New York law firm Boies Schiller Flexner, was unusually long and circuitous.
"I was really introduced to serious writing by Bill Floyd, one of my all-time favorite teachers. He taught us Yeats in the eighth grade," recalls Green. "Since then, I've loved poetry, especially the modern poets." The doors Floyd opened proved to be the high point of Green's early academic career, however, because he "back-slid" in high school.
Thanks to his SAT scores, Green was admitted to Princeton, but he lasted only three semesters. "It was an intensely challenging academic environment, and my study skills weren't on par with my classmates." He worked hard but couldn't manage his homesickness: "If you're mature, you're able to keep homesickness in perspective and overcome it. I was the opposite of mature."
Green, who grew up working with thoroughbreds, persuaded his parents he wanted to take a leave of absence and return to Lexington as a pre-veterinary student. He enrolled in the UK College of Animal Science and continued taking English courses along with his pre-vet courses. "When I took organic chemistry, it finished me as a pre-vet candidate," explained Green. "At the time, I didn't have the discipline to do that kind of work."
After three semesters at UK of mostly English courses, Green withdrew again and went to work with horses full-time. "Horses are what I loved, and I still love horses. At that point in my life, I really wanted to work in the thoroughbred business, because my family had for generations, and I felt that it was my destiny." Green would spend the next 15 years trying to fulfill that destiny—buying, selling, breeding, raising, and training horses.
After many years on several farms in Lexington, he found a job on the racetrack. There, Green worked for James E. Morgan. Morgan, a native of the tiny mountain town of Hyden, Ky., was—and still is—the most successful Ohio-based trainer of all time. "Jim is a wonderful person and he was a real mentor to me. He was a former high school teacher—the high school teacher I never had," said Green. "Because he was from Hyden and because he had had so much success with lesser horses winning big races, his nickname on the racetrack was 'the Snakehandler.' Snake-handling is part of the evangelical tradition in the mountains. The nickname implied that Jim must have been handling snakes to get those horses to win."
Green worked for Morgan as his assistant trainer for three very successful years at tracks throughout Kentucky and Ohio: "wherever the good horses weren't that day." Winters they spent at Gulfstream Park in south Florida. Then Morgan decided he wanted to start training horses from his farm in Ohio instead of at the tracks, and he asked Green to relocate there. When Green demurred, Morgan suggested that maybe it was time for Green to get his own trainer's license, which is what he did.
"I trained horses for three years and had some success, had some nice horses, won some stake races. But it was always a struggle for me because I was not good at developing new clients and getting the fresh horses you need to thrive. I'm an introvert. I love being around horses, and I loved the racetrack, but self-promotion to develop new business was a problem for me."
Perhaps it was all the novels he'd read that fueled a particular melancholic vision of the possible future: "I didn't want to end up on the backside of some gyp racetrack at 65- years- old with three broken-down horses. That would be a bad ending."
It was January 1992, and Green had been away from college for 16 years. Fortunately, his mother hadn't given up on her 37-year-old third son. Recalls Green, "My mother, bless her heart, said, 'I think you should see a vocational psychologist. I've heard of one in Louisville. It will cost $250, and I'll pay for it.' I said, 'Thanks; that sounds like a useful way to spend a day.'"
Green embarked on a full day of testing with Dr. Lee Epstein, who has since become a good friend. IQ tests, spatial-visualization tests, personality tests, and language tests were all conducted. Epstein's conclusion was that Green needed to go back to school, earn his B.A., and then obtain an advanced degree, because without those academic credentials, Green would never be able to qualify for a career that he would find satisfying. "It was a big moment in my life, to have somebody just tell me that," said Green. "I felt like there was a real deficiency in my profile because I was a college drop-out. I felt I was plenty smart, plenty capable. But I felt I had this issue with introversion and not being a good business promoter. The thought of going back to school had never presented itself to me as a realistic option."
Green attended night classes at the University of Louisville and continued to train horses at Churchill Downs. He took more English courses, as well as courses in architecture, philosophy and world history. .
As his credits accumulated at U of L, Green received some sound advice from Leon Driskell, a poet who was also the Director of Undergraduate Studies in English. Driskell calculated that Green's shortest path to a degree was a return to UK, using his numerous credits in animal science that wouldn't transfer to U of L. But Green was worried about his grades from his first stint at UK: "I had some incompletes from my last semester, and I may have even had an F in a course." He was directed to an associate dean in the College of Arts and Sciences who explained that some of his poor grades could possibly be expunged from his academic record in a process colloquially known as "academic bankruptcy." Green learned that he had taken so many English courses at three schools, Princeton, UK, and U of L., that he only needed one more English course for a major, plus a foreign language and a few other general requirements.
He gave his handful of horses to other trainers and moved back to Lexington and into the second floor of his mother's home, along with his wife Susan, after enrolling in UK's summer session to take German, the only foreign language offered in summer. After returning to college, Green received straight A's.
"It was fun the second time around, and it compared favorably to cleaning stalls and wondering what the heck you were going to do tomorrow," he said. In spring of 1993, at age 39, Chris Green finally graduated with a B.A. in English.
During the school year Green had also been working for a Lexington attorney doing title exams. "I had met a lot of lawyers over the years, and I always thought what they did was very interesting." He took the LSAT—twice, tripped up the first time by the logic problems, which he hadn't prepared for—and began applying to law schools. His first choice was the University of Virginia, which, as one of the top 15 law schools in the country, seemed like a viable path to a practice in New York, where he and Susan wanted to live.
Green ended up being the last student accepted from the wait list at UVA. Classes were already underway when he arrived in Charlottesville. Mr. Jefferson's University was a congenial place for the Greens, and it became the birthplace of their daughter Chloë.
He received employment offers from several New York firms and chose Debevoise & Plimpton, a large Manhattan firm. Most of his practice in his early years at Debovoise involved reviewing documents, writing research memos, and helping preparing senior lawyers to take depositions and try cases, which was frustrating for an aspiring litigator. "You couldn't get into the courtroom until you'd been there at least five or six years unless it was a pro bono matter," he recalls.
During a training session on taking depositions, Green saw a video of the attorney David Boies taking Bill Gates's deposition in the Department of Justice's litigation alleging that Microsoft was liable for antitrust violations by tying the use of its internet browser to the availability of its Windows operating system. "You had two absolutely brilliant people sparring with each other," recalls Green, "And David just lit Bill Gates up. He deconstructed everything he said. It was just amazing to watch how he did it. So I thought if I ever get a chance to meet David Boies, I would really like to."
In an amazing turn of serendipity, a week later Green was contacted by a recruiter for David Boies. He'd left the powerhouse firm of Cravath, Swaine & Moore and was starting his own firm, seeking attorneys with two or three years' experience who wanted to litigate, who were older than their cohort and better able to interact with clients than those who'd gone straight from college to law school to a first job. Business development is as much a part of the legal profession as it is the thoroughbred business, and now Green's maturity was an asset. He was interviewed and hired.
When Green joined Boies's new firm in 1999, the latter's vision was for a nimble firm of about 20 attorneys, but it became clear over time that in order to try the big cases, the firm needed more resources. Today, Boies Schiller Flexner has grown to almost 400 lawyers and has litigated many high profile cases, including Bush v. Gore, which the firm lost in the Supreme Court, and Perry v. Brown, a challenge to the constitutionality of California's Proposition 8 banning same-sex marriage, which the firm won.
At Boies Schiller Flexner, Green has litigated in a dizzying array of content areas, from insurance, natural resources, and the Clean Air, to the NFL, stock car racing, and movie theaters, to hedge funds and telecommunications. "We are trial lawyers, so we have to be generalists." In this regard, Green's training as an English major has served him well. "What we're expert in is the process of getting our arms around the substantive law, around the facts, creating a narrative that is a good story for purposes of winning, and working with the witnesses and the mechanics of the hearings to bring it to an end point that's good for the client, whether it be a decision after a trial or a settlement before a trial."
In 2006, he was presented the Partner in Justice Award by Legal Services of the Hudson Valley for excellence in and commitment to the provision of pro bono legal services to indigent residents of New York's Hudson Valley. And in 2008 he received the Thurgood Marshall Award for Capital Representation from The Committee on Capital Punishment of the Association of the Bar of the City of New York, in recognition of the contribution of time and legal expertise in the representation of inmates under a sentence of death.
Two of Green's three daughters are fluent in French, one a recent graduate of Skidmore College with a double major in English and French, and the other a junior in high school. He and Susan, who was raised in England, have encouraged their children to travel and study abroad, and Green has contributed to UK's Study Abroad program. "I think it's really important for students at UK and young people generally to be exposed to the wider world and understand that we all have to figure out how to inhabit it together. People all tend to be insular by nature, but I think it's really good to push outside of that envelope."
Green has also remained involved with horses through the sport of polo, which he first played in Lexington before going on the racetrack. He started playing seriously again about 12 years ago, both arena and outdoor polo, volunteering for the U.S. Polo Association and becoming a certified umpire. He now serves as chairman of the USPA Rules Committee.
At the English Department's awards ceremony on April 28, Green was taken by Professor Pearl James's talk on the Robert Frost poem, "The Road Not Taken." "I admire Robert Frost's poetry as much or more than Yeats's. Professor James said the poem can be read to be about making decisions and retrospectively putting those decisions in context. When I look back on my life, there are many things that I would have done differently, but one of them that I can't imagine having done differently was concentrating on English literature, reading books and poetry, because it's just so integral to who I am," said Green. "I work a lot with young lawyers. Those who read and think about reading and are facile with reading and writing are generally superior to those who come from almost another educational background. Writing is so important to practicing law—the ability to write clearly and persuasively. Understanding the complexity of the issues you're dealing with and how to simplify them and create a narrative is so important to litigation that certainly a valuable asset is to have a good background in English."
In recognition of his success in law and lifelong devotion to English, Chris Green was named the UK English Department's 2018 Alumni of the Year.
"I was very humbled to receive the award. To be in the same room with students and teachers who are brilliant writers and thinkers about all the issues that come up in language and literature and receive an award with and from them was very humbling," Green said. "And I really mean that."