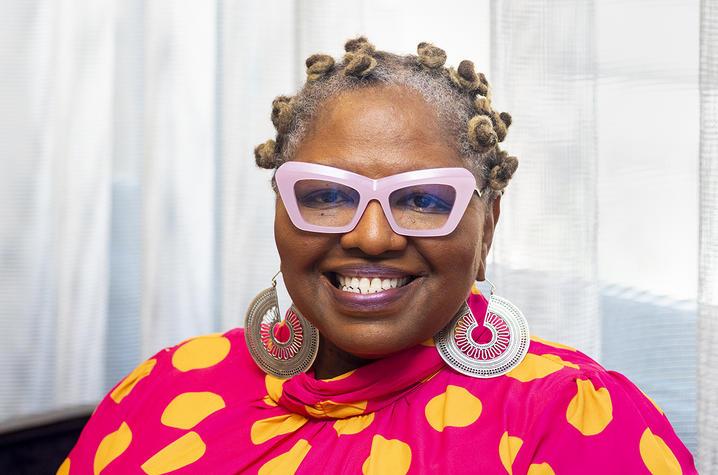 LEXINGTON, Ky. (June 9, 2023) — University Press of Kentucky authors and UK English professors Crystal Wilkinson and Frank X Walker, along with illustrator Ronald W. Davis (upfromsumdirt), are featured in the new Hulu documentary and travel show, "Searching for Soul Food."
The three can be seen in the show's third episode, "Appalachia," which "uncovers the heart and humanity behind the food of the people." The episode features Wilkinson and Davis cooking and meeting in their home with host and chef Alisa Reynolds.
"Being on the show was so much fun," Wilkinson said. "The crew spent a day with me and Ron and treated us and our home with such loving care while we were filming, and Chef Alisa Reynolds is amazing. Her concept for the show is an important contribution to the culinary cannon. Indeed, every culture has food that at its heart is soul food. I was honored to highlight Kentucky and my own family's culinary history in the Appalachian episode. And what a treat to appear with Chef Travis Milton and the others who represented the region."
Poems from Wilkinson's most recent book, "Perfect Black," are featured in the episode. The book is an homage to the author's rural roots in Southern Appalachia and was the recipient of the 2022 NAACP Image Award for Outstanding Literary Work – Poetry. It was previously the recipient of the Thomas D. Clark Medallion Award, which has been awarded annually since 1994 to writers whose literary achievements highlight Kentucky history and culture. The collection is written with a vividness of language punctuated by the striking illustrations of Wilkinson's longtime partner, Ronald W. Davis, who is also featured in the episode.
Wilkinson is the first Black woman to hold the appointment of Poet Laureate of Kentucky. She is the author of "The Birds of Opulence," which was named winner of the Ernest J. Gaines Award; and "Blackberries, Blackberries," winner of the Chaffin Award for Appalachian Literature; and "Water Street," a finalist for both the United Kingdom's Orange Prize for Fiction and the Hurston/Wright Legacy Award.
Wilkinson is the recipient of a 2021 O. Henry Prize and winner of a 2020 USA Artist Fellowship. She serves as professor of English at UK and was recently named a 2023-24 University Research Professor. The professorship, established by the UK Board of Trustees, recognizes excellence across the full spectrum of research, scholarship and creative endeavors.
Davis (upfromsumdirt) is an award-winning artist who has galleried in Kentucky, Indiana, Ohio and Tennessee, and participated in curator Tewodross Melchishua's traveling art exhibit titled "M3: MCs, Mics and Metaphors." His work has also been featured on the covers of African American Review and Tidal Basin Review, and he has created book cover designs for a number of authors, including Adam J. Banks, Honorée Fanonne Jeffers and Keith Gilyard, and for his own chapbook collections, "Caul & Response" and "Tangerine Tubman: A Long-Playing Poem." His art or poetry has been featured online at Connotation Press, About Place Journal, New Southerner, "Accents" radio program and Nat Creole Magazine.
Writer, artist and educator Frank X Walker is also featured in the episode, discussing the term "Affrilachian."
"Shauna (Morgan) and I were thrilled to have a tiny part in the show celebrating Crystal, soul food and diversity in Appalachia," Walker said.
Walker is a professor of English at UK and was the first Black American to be named Kentucky Poet Laureate. He is author of the new release "A Is for Affrilachia," an inspired picture book that not only brings awareness of notable Black Americans from the Appalachia region, but celebrates the people, physical spaces and historical events that may not be as well known in mainstream educational structures. Illustrated by artist Davis, every image exudes vibrancy, beauty and whimsy as it depicts each of the alphabetized words alongside the appropriate letter.
Walker has published 11 collections of poetry, including "Buffalo Dance: The Journey of York," "Expanded Edition; Masked Man, Black: Pandemic & Protest Poems" and "Turn Me Loose: The Unghosting of Medgar Evers," which was awarded an NAACP Image Award and the Black Caucus American Library Association Honor Award. The recipient of the 35th Lillian Smith Book Award and the Thomas D. Clark Award for Literary Excellence, Walker is also a founding member of the Affrilachian Poets and the founding editor of pluck! The Journal of Affrilachian Arts & Culture. He is the recipient of honorary doctorates from University of Kentucky, Transylvania University, Spalding University and Centre College, and serves as professor of English and African American and Africana studies at the University of Kentucky.