Eden Incarnadine
Broadstone Books, 2019
Dan Howell
Eden Incarnadine is a wildly inventive, gut-punch of a poem. I've never read anything quite like it. It is at once experimental and grounded in tradition. Howell inhabits an earlier American idiom and never hits a flat note. If Cormac McCarthy wrote poetry, it would sound like this." -- Erik Reece (author of Utopia Drive and American Gospel)
A Bound Woman Is A Dangerous Thing
Bloomsbury, forthcoming
A Publishers Weekly Top 10 History Title for the season
For black American women, the experience of being bound has taken many forms: from the bondage of slavery to the Reconstruction-era criminalization of women; from the brutal constraints of Jim Crow to our own era's prison industrial complex, where between 1980 and 2014, the number of incarcerated women increased by 700%.* For those women who lived and died resisting the dehumanization of confinement--physical, social, intellectual--the threat of being bound was real, constant, and lethal.
In A Bound Woman Is a Dangerous Thing, Hill presents bitter, unflinching history that artfully captures the personas of these captivating, bound yet unbridled African-American women. Hill's passionate odes to Zora Neale Hurston, Lucille Clifton, Fannie Lou Hamer, Grace Jones, Eartha Kitt, and others also celebrate the modern-day inheritors of their load and light, binding history, author, and reader in an essential legacy of struggle.
*(The Sentencing Project)
Visible Empire
Houghton Mifflin Harcourt, 2018
"Pittard's novel combines a sense of personal loss and turmoil with greater societal change as the civil rights movement arrives at its peak."—New York Times Book Review, A "New & Noteworthy" selection
Whatever Light Used to Be
Workhorse, 2018
Dan Howell
The marvelous poems in Whatever Light Used to Be move against the gravity of time and corrosion toward moments of ecstasy that are all the more convincing and ecstatic for their refusal to forget the gravity they momentarily overcome. These are seasoned poems, tough, disquieting and beautiful, impossible to forget." -- Alan Shapiro (author of Reel to Reel, Nominee for 2015 Pulitzer Prize for Poetry)
Ink Stains & Watermarks
Duncan Hall Press, 2017
"In every stanza of this evocative and revelatory gospel, the inimitable X teaches us "Something important about holding on, something more about letting go." He leans hard into the fierce, achingly familiar and sometimes fractured realities of the black-lived life, and under his deft touch they unreel as stark cinema—character-driven, rich with sensory, imbibed with their own selfish music and utterly, utterly memorable." —Patricia Smith, author of Incendiary Art, Northwestern University Press
More Sonnets from the Portuguese
Whitepoint Press, 2016
More Sonnets from the Portuguese is a sonnet novella that chronicles one year in the life of Zélia Nunes, a widow in her mid-40s. When Zélia receives an email from an ex-lover, her powerful inner longings threaten long-held traditions of Azorean-American and Azorean life; these poems are rooted in the language, imagery, and stories of land and sea, family, labor, spirituality, and Catholicism. Though this sonnet novella is decidedly secular, the narrative is structured liturgically, a mode of tracking time in Azorean communities that is as strong as agricultural seasons and more salient than months, seasons, and school calendars. Capturing the essence of a very visible culture, Silicon Valley, and a mostly invisible one, the San Joaquin Valley, More Sonnets from the Portuguese is familiar and exotic.
Subsidence
Groundhog Poetry Press LLC, 2016
The Affrilachian Sonnets
Larkspur Press, 2016
"As a whole, Frank X Walker's "The Affrilachian Sonnets" is the perfect combination of the aesthetic and the political. These are socially significant poems that are painstakingly crafted by a man who loves beauty as well as social change. In these poems, Walker merges the lyric intensity of Komunyakaa with the myth-making energy of Robert Frost. These poems transcend traditional notions of Appalachia and hold forth the promise, the triumph, and the necessity of a new and diverse Appalachia.
–Sonja James, author of The White Spider in My Hand, Scarith Books
Utopia Drive
Farrar, Straus and Giroux, 2016
"If I could handpick a tour guide to American utopias - from their gratest flowering in the nineteenth century to afew optimistic holdouts in the twenty-first - it would be Erik Reece. Gifted equally as a scholar and a storyteller, he colors the landscape with forgotten histories and imagined futures. His book is smart enough to be skeptical of utopian visions but wise enough not to dismiss them. We lose the social dreamer in our nature only at the cost of a shrunken imagination. Utopia Drive reconnected me with my own." - John Jeremiah Sullivan
Listen to Me
Houghton Mifflin Harcourt, 2016
"Hannah Pittard's Listen to Me is a dazzling new novel with a perfectly-drawn forty-something couple on a positively Hitchcockian misadventure. As the suspense grows, their world turns darker and more menacing, threatened by violent weather and bizarre people, like the cowboy who, out of nowhere, remarks on Maggie's appearance—or does he? By then you know you're in for the duration, a ride into the heart of darkness, West Virginia style, where, after a night in hell and a heartbreakingly high price, they find what they're looking for—a way out, a second chance."
— Frederick Barthelme, author of There Must be Some Mistake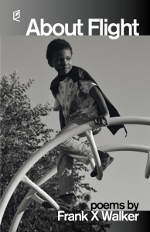 About Flight
Accents Publishing, 2015
"Up until this point in American history, no poet has written an honest and believable lament about the crippling effects from the tornado swirl of a crack pipe, how a little rock being melted between thin mesh screen creates pallid smoke: a monster, a slave to the white lady that is cocaine. In About Flight, Frank X Walker gives us the beautiful ugly narrative of a brother who is wrestling with chemical dependency, and losing. The high, in all of its beautiful contradictions takes on the metaphor of flight, and so we soar through the terrible highs and lows of a protagonist who carries his family with him into the den of iniquity."
—Randall Horton, author of Pitch Dark Anarchy & Hook: A Memoir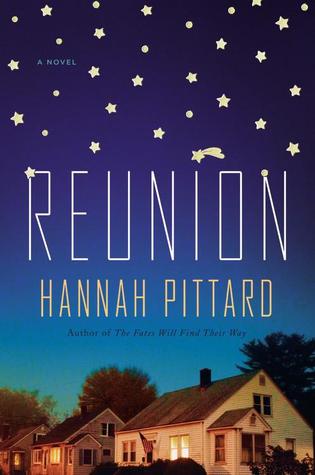 Reunion
Grand Central Publishing, 2014
Five minutes before her flight is set to take off, Kate Pulaski, failed screenwriter and newly-failed wife, learns that her estranged father has killed himself. More shocked than saddened by the news, she reluctantly gives in to her older siblings' request that she join them – and her many half-siblings, and most of her father's five former wives – in Atlanta, their birthplace, for a final farewell.
Turn Me Loose: The Unghosting of Medgar Evers
University of Georgia Press, 2013
"Having labored in the world of the arts and in particular in the vineyards of poetry over the last fifty years, I am seldom surprised, moved, or excited about the many voices—new and experienced—who occupy our rather fragile and inclusive world. Frank X Walker is an exception. His unusually perceptive and original voice commands a seat at the table. That which separates most poets is their use of language and their ability to creatively keep us reading and listening to their concept of the world we all love, live, and fight in. Read this poet."
—Haki R.  Madhubuti, author of Honoring Genius: Gwendolyn Brooks-The Narrative of Craft, Art, Kindness, and Justice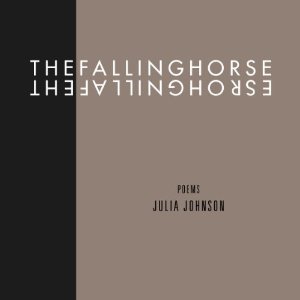 The Falling Horse
Factory Hollow Press, 2012
"Julia Johnson's poems are intricate and crafty, they explode, treating the reader to a fantastic display that's part Joseph Cornell, part Yves Klein, part Braque, and that's just the beginning of the show. In her beautiful new book The Falling Horse she manages to be startling and sweet, breathtaking and heartbreaking at turns, and sometimes all at once. Fresh, commanding, twisty--the book that propels Johnson into the first rank of contemporary American poets. It is not to be missed."  -Frederick Barthelme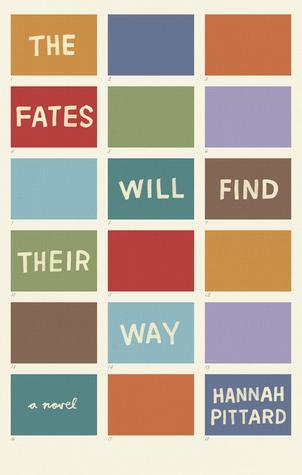 The Fates Will Find their Way
HarperCollins Publisher, 2011
Sixteen-year-old Nora Lindell is missing. And the neighborhood boys she's left behind are caught forever in the heady current of her absence. As the days and years pile up, the mystery of her disappearance grows kaleidoscopically. A collection of rumors, divergent suspicions, and tantalizing what-ifs, Nora Lindell's story is a shadowy projection of teenage lust, friendship, reverence, and regret, captured magically in the disembodied plural voice of the boys who still long for her.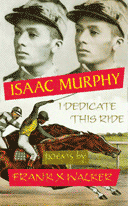 Isaac Murphy: I Dedicate this Ride
Old Cove Press, 2010
In this new collection of poems, Frank X Walker immerses himself in the story of legendary African American jockey Isaac Burns Murphy (1861-1896). The son of a slave, Murphy rose to the top of thoroughbred racing to become the most successful Jockey in America. Through poetic imagination, Walker gives us the voices of Isaac Murphy and his wife Lucy, his trainer Eli Jordan, and his parents James and America Burns. Through their words we follow Murphy's dramatic Journey to become America's most celebrated black jockey.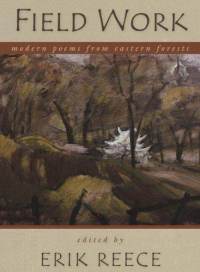 Field Work: Modern Poems from Eastern Forests
University Press of Kentucky, 2008
While writing his book, Lost Mountain: A Year in the Vanishing Wilderness, Erik Reece spent a great deal of time studying strip mining and its effect on the environment and surrounding communities. After a year of exploring the ugliness of a rapidly disappearing landscape, Reece felt a strong need to celebrate the wonder the Eastern broadleaf forests still have to offer. The result is a collection of poems by individuals who share Thoreau's belief that the natural world is "an unroofed church, a place of reverence." Field Work: Modern Poems from Eastern Forests seeks an answer to Frost's question, "What to make of a diminished thing?" by contemplating work from some of the twentieth century's greatest nature poets.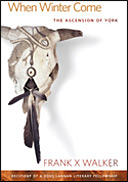 When Winter Come: the Ascension of York
University Press of Kentucky, 2008
A sequel to the award-winning Buffalo Dance, Frank X Walker's When Winter Come: The Ascension of York is a dramatic reimagining of Lewis and Clark's legendary exploration of the American West. Grounded in the history of the famous trip, Walker's vibrant account allows York — little more than a forgotten footnote in traditional narratives — to embody the full range of human ability, knowledge, emotion, and experience. Knowledge of the seasons unfolds to York "like a book," and he "can read moss, sunsets, the moon, and a mare's foaling time with a touch."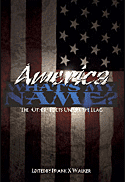 America! What's My Name? The "Other" Poets Unfurl the Flag
Wind Publications, 2007
Frank X Walker, ed.
The degree to which university professors have staked their academic lives and intellectual selves on every accented syllable of dead white men, having diagramed their "brilliant" intentions and held it up as evidence that poetry is the caviar on the literary menu, has helped carve out an elitist mystique and ruined many a promising young poet. In the pages that follow, we offer a counter argument: that poetry is bread. That it is whole grain sustenance and comes in all colors, ethnicities, sizes, genders, and sexual preferences. It is not just the leather-bound private joy of scholars, but new and naked and pouring out of the stomachs and hearts of emerging and established writers all over this country.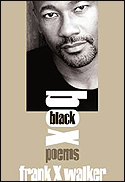 Black Box: Poems
Old Cove Press, 2005
Black Box continues the personal and autobiographical journey of Affrilachia with sixty eight new poems from Walker.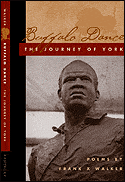 Buffalo Dance: the Journey of York
University Press of Kentucky, 2003
This collection of persona poems tells the story of the infamous Lewis & Clark expedition from the point of view of Clark's personal slave, York. The poems form a narrative of York's inner and outer journey, before, during and after the expedition — a journey from slavery to freedom, from the plantation to the great northwest, from servant to soul yearning to be free.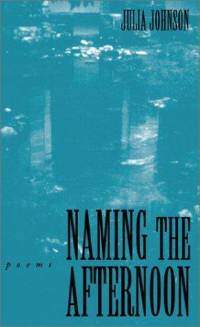 Naming the Afternoon
Louisiana State University Press, 2002
The poems in Naming the Afternoon, Julia Johnson's first collection,gather naturally together in three sections that tackle the subjects of Time, Eternity, and Language. The poems, influenced by Johnson's New Orleans upbringing but not drawn from any specific place, are mysterious yet inhabit a world of reason and explanation. Even though the world may seem distant and strange, it is composed of familiar elements--a kitchen, a violin, a purse. The collection focuses on images and feelings and has an underlying sense of urgency to name the passing moment, which is over in an instant, as soon as the "soup" [has] finished shaking in the bowl of a spoon." In this remarkably mature debut, Johnson has created poems that are intelligent, haunting, evocative, and instructive.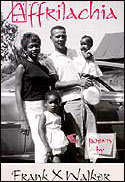 Affrilachia
Old Cove Press, 2000
Affrilachia is Walker's groundbreaking first collection of poems, now in its fourth printing.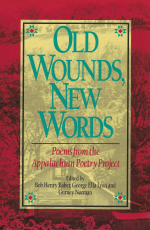 Old Wounds, New Words: Poems from the Appalachian Poetry Project
The Jesse Stuart Foundation, 1994
Bob Henry Barber, George Ella Lyon, and Gurney Norman
We are told that the light seen when we look up at the stars in the nights sky started coming to us long ago, and that in some cases , the light just now arriving is from stars that have gone out, Doesn't this notion suggest the better metaphor for Old Wounds, New Words? Although these poems, like light from stars, started coming to us years ago, they arrive just now.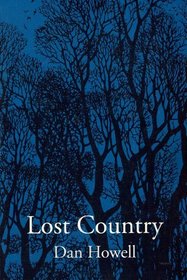 Lost Country
University of Massachusetts Press, 1993
"The best poems in Lost Country bring an almost preternatural clarity of focus to the small, out of the way details, moments, and dimensions of collective and individual life that are everywhere around us but that nobody till now has thought to notice. The book's most memorable poem, 'The 4A Shuffle,' is one of the most bizarre, yet deeply humane accounts of the Vietnam era that I have ever read." – Alan Shapiro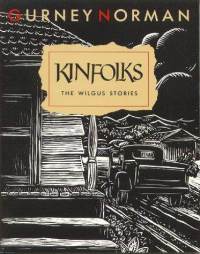 Kinfolks: The Wilgus Stories
Gnomon Press, 1977
This book brings together Norman's Wilgus stories that have appears in small magazines over a ten-year period. The stories explore the variety of relationships among members of an Eastern Kentucky family in the post-World War II years. Wilgus Collier is nine years old in the first story, and by the last, when in his twenties, we have witnessed the many rites of passage in growing up. The feeling and mood of the mountain region are present here, but Norman's sense of place is very much his own. Yet the mountain setting with its humor and fine madness does not limit these stories to their audience--for they range into intricacies of character, family situation, and American life that have wide appeal.