EGSO Symposium
English Graduate Student
Organization Symposium
Bound Books: Literature of the Long and the Wide
March 25, 2016
Schedule
Bagel Hour/Registration: 8:00 am-9:00 am
Betty Combs Enrichment Center in Patterson Office Tower, 12th Floor
All Panels and the Keynote will be located in the Niles Gallery
Panel 1, Future Passing
9:15 am-10:45 am
Chair and Respondent: Katie Waddell 
Michelle Sizemore: "After" Historicism: Reading In and Out of Time
Sean Madden: How the Lonesome Engine Drivers Pine
Annalise Wolf: An Unexpected Arc: the Desirability of Unpredictability
Emily Kolf: Why Dansie and Josie Sleep: Imagining Death in African American Literature
Keynote: 11:00 am-12:00 pm
George Phillips, "Making Modernist Worlds"
Lunch: 12:00 pm-1:00 pm
Panel 2, Speaking to Alterity 
1:15 pm-2:45 pm
Chair and Respondent: Jillian Winter
Peter Kalliney: The Cold War and Colonial Intellectuals
Victoria Sullivan: Gender, Nature, and the Enclosure of Creole Women in Wide Sargasso Sea
Matt Bryant Cheney: The Ethics of "Unearned Emotion": Some Techniques Against Sentiment in Late Modernism
Emily Handy: Estates and Mental States: Intermental Polyphony in Castle Rackrent
Panel 3, Transgressing Boundaries: Rethinking Periodization in African American Literature
3:00 pm-4:30 pm
Chair and Respondent: Claire E. Lenviel
Nazera Wright: Relocating Harriet Jacobs in the Venning Autograph Albums
Cate Gooch: Men on the Mississippi: Black Bodies and the River in Richard Wright's "Down by the Riverside" and Jacob Lawrence's The Migration Series
Chinwe Morah: Anna Julia Cooper: Modern Woman and Modern Thinker
Brittany Sulzener: Kyle Baker's Nat Turner and Nate Parker's The Birth of a Nation: Writing the "Real History of Nat Turner"
Synthesis: 4:45-5:15
Happy Hour to follow.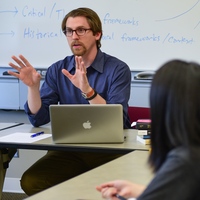 Our keynote speaker this year is George Micajah Phillips, who received his PhD in English from the University of Kentucky in 2011, is Assistant Professor of English at Franklin College, where he teaches courses on transnational modernism, world literature, Victorian literature, and composition. His research focuses on modernism, colonialism, and visual studies, and has appeared in Novel: A Forum on Fiction, Hypermedia Joyce Studies, and elsewhere. From 2012-15, he was Visiting Assistant Professor of English at Centre College. 
You can follow Dr. Phillips on academia.edu (https://franklincollege.academia.edu/GeorgeMicajahPhillips) and/or on Twitter (@gmpphd).