By Whitney Harder
(March 26, 2015) — The University of Kentucky Department of Biology welcomed researchers from Florida, Georgia, Alabama, Tennessee and Kentucky, as well as renowned Dutch scientist Serge Daan, as it hosted the 4th Biennial Conference of Rhythms in the Southeast Region (RISER) this past weekend.
At the UK/Lexmark Center for Innovation in Math and Science Education on Saturday, May 23, researchers presented their work in oral and poster presentations throughout the day. Daan, the Niko Tinbergen Distinguished Honorary Professor in Behavioural Biology at the University of Groningen in the Netherlands, delivered a keynote speech on the history of the chronobiology. 
Chronobiology is the study of biological rhythms as they relate to time. Daan was trained as a postdoctoral scholar by the two founders of modern chronobiology, Jürgen Aschoff and Colin Pittendrigh, and is today known for his significant contributions to the field.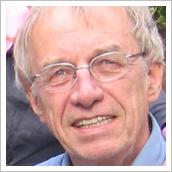 Daan has discovered the basic properties of circadian rhythm and its role in behavior expression and physiological phenomena. He was also one of the first researchers to focus on the ecological significance of annual cycles and related circadian rhythms from the viewpoint of ecological energetics. The Japan Society for the Promotion of Science, who awarded Daan the International Prize in 2006, credits him with laying the foundations of chronobiology.
His research has been reported in approximately 250 publications, which were together cited more than 9,000 times.
Additional presentation topics included sleep deprivation in aplysia; a noninvasive alternative to EEG/EMG measurements for finer discrimination of sleep in mice; using optogenetics to shift the circadian clock; and more.