Craig McIntosh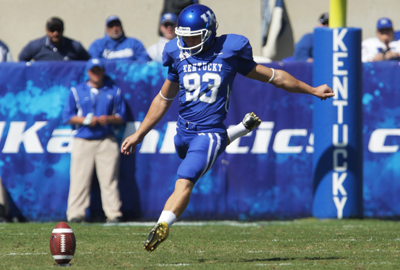 Cadet Spotlight
Kicking Off a Career of Leadership
by Andrew Batista
Football Time in the Bluegrass never begins until Craig McIntosh feels that the moment is right. While he channels his adrenaline, 68,000 fans in Commonwealth Stadium pause with anticipation each Saturday as McIntosh, a walk-on student athlete and University of Kentucky Army ROTC cadet, kicks away a football and thus begins the Wildcats' weekly gridiron battles.
"Kicking a football is much more of a mental challenge than a physical performance," said McIntosh. "When you're kicking off, you've got one shot, and it's either hit or miss. It's not like you can hustle on the next play to recuperate mistakes you might have made. Ultimately, in that moment it's just you and the ball."
McIntosh takes his exceptional focus and discipline, qualities that he has used to his advantage on the football field, and applies them to every facet of his life at UK. In addition to majoring in kinesiology and exercise science, his active role in UK's student government, and his service as a representative on UK's Intra-Fraternity Council board, McIntosh participates in the Army ROTC scholarship program.
"The greatest advantages of being an ROTC cadet are definitely the opportunities available to learn, experience, and better oneself," said McIntosh. "I mature not only as a future Lieutenant, but also as a person and leader in our community."    
McIntosh signed on with ROTC because he believes his college education would be best developed if he accomplished a diverse range of challenges that transcend his academic curriculum. This drive, no doubt, is what makes McIntosh's success on the football field so remarkable. Even though he is a relative newcomer to the sport, McIntosh has found a place to compete at college football's highest level.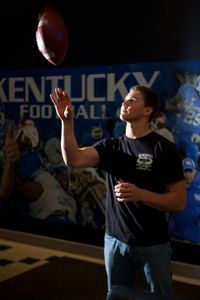 "I didn't love football initially," said McIntosh. "I wasn't like so many guys, who had been playing since they were eight years old."
Homeschooled and a native of Lexington, McIntosh attended Trinity Christian Academy briefly, where he played soccer, but then finished his high school career at Lexington Christian Academy, where he continued with soccer, ran track, and started as a kicker on the football team. After graduating from LCA, McIntosh attended several kicking camps, where he received positive feedback from coaches and collegiate scouts. 
"I knew I had potential to kick in college after going to these camps," McIntosh said. "I've always been aware of my capabilities, and I know I can perform when I need to be at my best. When I make a couple of kicks, my confidence only continues to grow."
Even though he was touted by kicking experts, top-tier football programs showed little interest in him. It was only when McIntosh heard from the media that former UK head football coach Rich Brooks was losing sleep each night as he worried who could replace now-NFL punter Tim Masthay's powerful leg that he thought about playing collegiate football seriously. McIntosh immediately felt that he should give himself a chance to compete and decided to attend an open tryout.
"I don't know if it was the adrenaline or the experience of performing under the scrutiny of the coaches, but I kicked better than I had in my life during that tryout," said McIntosh. After playing throughout most of the 2009 season, McIntosh continues to refine his skill, work on his direction, and improve his hang time. McIntosh anticipates greater opportunities under a new coaching administration, and he is excited about what his future holds.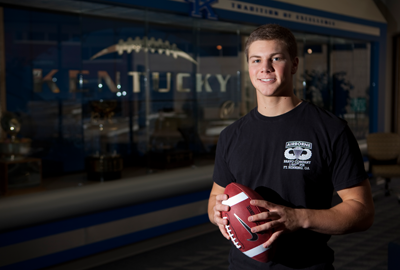 "I've got all summer to work on my kicking skills. I'm going to get some extra practice time in, learn from the coaches, and we'll see what I have to offer the team in future years."
Given his athletic accomplishments, McIntosh's family was not surprised when he decided to join the Army ROTC program. Several of McIntosh's family members served in the Army, including his uncle who is an alumnus of UK's Army ROTC program. This past summer McIntosh attended Airborne School in Fort Benning, Ga., and in the future he's excited to pursue aviation and helicopter training programs. 
McIntosh's time at UK has proved to him that his career can develop according to a multitude of paths. Whatever his vocation, though, he knows the leadership and experience garnered from his ROTC education and his football competition will help him greatly.