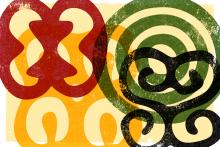 On November 9, 2011, as part of the Carter G. Woodson Lecture Series, the Africana and African American Studies program hosted a talk entitled "Groups, Organizations, and Identity: Intercultural Communication in Black Greek Letter Organizations." The talk, presented by Robert Mock, UK's Vice President for Student Affairs, highlighted a course that Mock will be teaching next semester called "Special Topics in African American Studies: Black Greek Letter Organizations" (AAS 400/COM 591). We talked with students, faculty, and staff in attendance about the event and their involvement in Greek life.
This podcast was produced by Christina Buckner.
This work is licensed under a
Creative Commons Attribution-NonCommercial-ShareAlike 3.0 Unported License
.