KYWSC
The Kentucky Young Writers Summer Colony
Unfortunately, the Colony will not be offered in summer 2020. Please check back!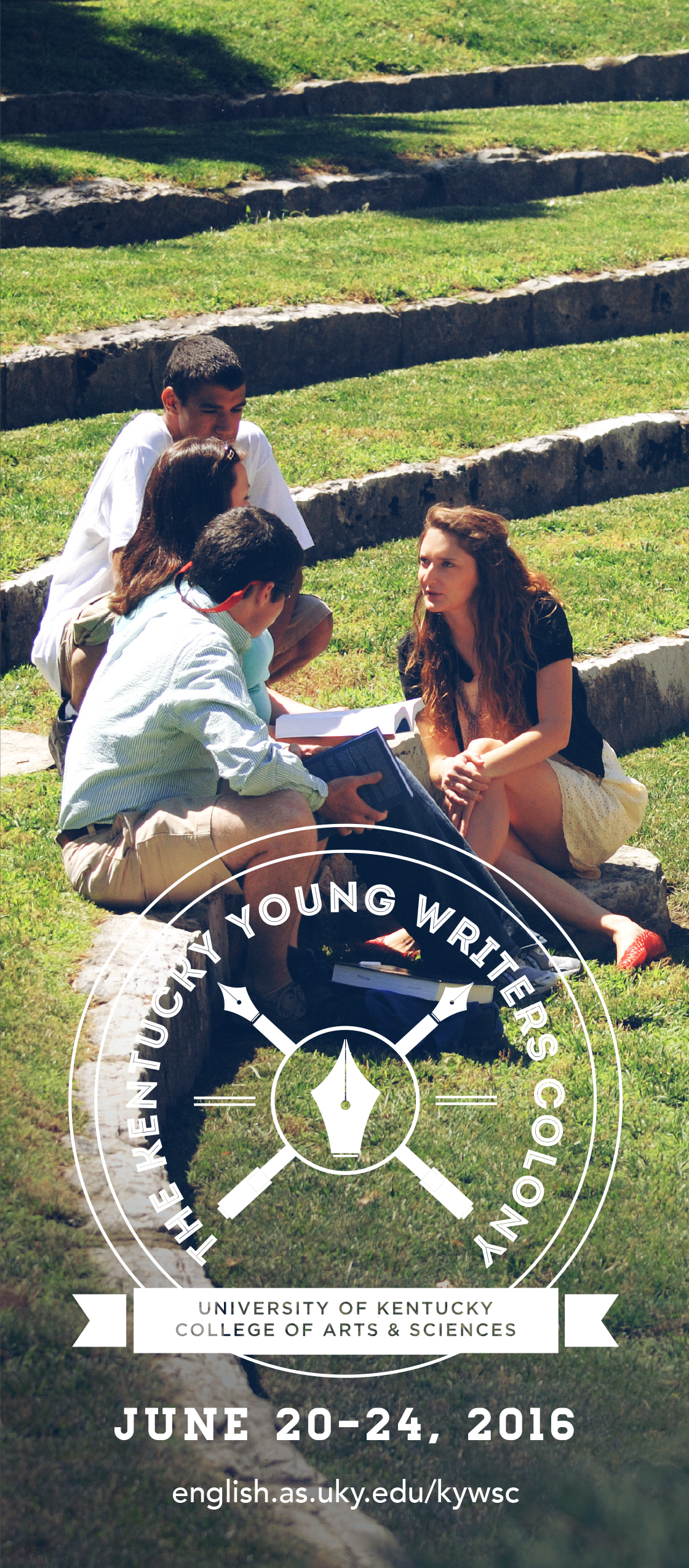 The Kentucky Young Writers Summer Colony is an intensive weeklong program held at the University of Kentucky, College of Arts & Sciences. The Colony is offering three program levels for students going into middle and high school. Level one will be for students going into grades 6-8 and level two will be for students going into grades 9-12. Level three is for those students that attended the 2015 KYWSC.
The Colony offers writers the space and time to read, write and engage serious writers from around the world. Lead by the distinguished faculty of the University of Kentucky's Creative Writing Program, the Colony offers workshops in fiction, poetry and nonfiction. The program emphasizes imaginative development and the creative process while providing positive feedback in a non-competitive, constructive environment. By helping students to become more purposeful and aware of their writing strategies, the Colony also prepares participants for the independent and creative thinking necessary for collegiate success.
The KYWSC is not like summer school. While a rigorous schedule of workshops and discussion is in place, students have ample time to read, reflect, converse, experiment, and explore. For this reason, colonists must be self-motivated, responsible, and dedicated to honing their craft: learning to observe the familiar in the unfamiliar and the unfamiliar in the familiar; to transform observations into creative works; to collaborate and discuss writing; and to revise and reimagine.
Workshop leaders and special guests include publishing current and former faculty from among the University of Kentucky's Program in Creative Writing and Department of English, such as Frank X Walker, Julia Johnson, Michael Carter, Gurney Norman, Erik Reece, Hannah Pittard, Bobbie Ann Mason, Andrew Ewell, Jeff Clymer, and Manuel Gonzales.
When
June 20-24, 2016
Meals
Lunch will be provided daily. Dietary restrictions will be accommodated. Please make sure to note these considerations on the registration form.
Typical Daily Schedule
9-12 Workshop, Field Trip, or Tour
12-1 Lunch 
1-2 Discussion or Writing Exercises
2-5 Workshop, Field Trip, or Tour
Where
While on campus all events related to the Kentucky Young Writers Summer Colony will take place in The 90, the Fine Arts Library, the Presidents' Garden and many more. 
Tuition/Registration Fee
Tuition for the Kentucky Young Writers Summer Colony is $400 per student. A $100 deposit is due at the time of registration. You can also have the option to pay the total tuition in full at the time your register. The registration deadline is June 10th. Apply by March 25th and receive a $50 discount (Early bird registration $350). After June 10th, registrations will be placed on a waitlist and assessed a $25 late fee ($425 total registration). Late registrations will be notified no later than June 17 if they are moved from the waitlist into the program.
Checks should be made payable to the "University of Kentucky" with KYWSC written in the memo line.  Checks should be mailed to the following address:
KYWSC
College of Arts & Sciences
Attn:  Julia Johnson
202 Patterson Office Tower
Lexington, KY 40506
As previously stated tuition includes lunch daily. It will also include a t-shirt and all coursework materials.
Please note, there are no grades or college credit offered through this program.
Questions?
For questions regarding the program, email Program Director Julia Johnson at julia.johnson@uky.edu.