When Kyle Longley applied to doctoral programs in history, he narrowed the choice down to two schools: the University of Kentucky and one other. But a visit to Lexington and Billy's Bar-B-Q, where he had lunch with George Herring, the professor who would become his mentor, made UK the place to go.
"Once I met George, there was no choice," Longley said. "He was just a very accommodating and helpful professor."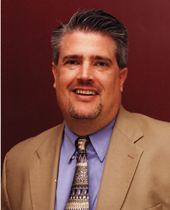 Twenty years later, Longley is the Snell Family Dean's Distinguished professor of history at Arizona State. He's written four books, edited and contributed to another and is about to send his fifth to the publishers. He's won many teaching awards and has contributed to mainstream publications like the Washington Post, the Los Angeles Times andNewsweek.
Longley attributes his success, in part, to the lessons he learned at UK from Herring, who is now retired, and other professors who mentored him. The lessons weren't just from classes he took, but from seeing how they worked as academics and balanced the need to teach, do research and contribute to history as a discipline.
"Those mentors showed me what the expectation was to be good professors," Longley said. "They established what it was, and I hope that I've replicated that in my own career."
Some of the lessons were practical, like how to manage a class of 300 students; others were more esoteric, like how to show compassion to students. Herring taught, managed the department and published, but still had the patience to help graduate students, Longley said.
"He was very accessible despite the significant time constraints placed on him," Longley said. "I hope to be able to replicate that, the accessibility and the patience."
Longley's mentor relationship with Herring continues today. Longley still speaks regularly with Herring, and Herring has read most of Longley's books before publication. In the November issue of "Diplomatic History," Longley is one of several former students to pay tribute to Herring.
After graduating from UK, Longley taught for a year at Centre College, while he finished his dissertation and then went to the Citadel, where he was a visiting professor. In 1995, he took a job at Arizona State University, where he has been ever since.
Longley has tried to model his career on those of the professors he worked with at the University of Kentucky, balancing the need to do research and publish with the time and effort it takes to be a good teacher, both at the graduate and the undergraduate level.
His research covers several different areas. His first two books, "In the Eagle's Shadow" and "The Sparrow and the Hawk," dealt with U.S. - Latin American relations. His next book was a biography of Senator Albert Gore Sr., and started his exploration of Vietnam Era history. At the same time, he edited and contributed to a book on conservative mythology and Ronald Reagan. His fourth book, "Grunts," examines American Infantrymen in Vietnam. His current project, which is almost done, focuses on a small copper mining town in Arizona where nine men volunteer for the Marine Corps during Vietnam. Eight of the men are from the same high school class. Six of the nine die in combat during the course of the war.
"For a town of 5,000, that's a devastating loss," Longley said.
Longley plans to leave the Vietnam era for his next projects. He's working on a book with Supreme Allied Commander Europe, James Stavridis about the America's current foreign policy challenges. Longley hopes the book will help show how the lessons of history apply to contemporary foreign policy challenges.
What comes after that is still undecided. Longley may write a biography of Al Gore Jr., or, perhaps, a book focusing on a little-known Democratic senator, Lester Hunt, from Wyoming who, in the 1950s, committed suicide after Republicans threatened to out his homosexual son.
Longley says that he hasn't written more than two books about the same subject. The joke in his family, Longley says, is that he's a jack of all trades but a master of none.
Longley likes working at ASU, although it is very different from UK. The university has 56,000 students ,and the campus is spread out compared to UK. It's harder to have the kind of community the history department had at UK, just because of geography. Professors and graduate students live further away from campus, and trips across town take longer than 20 minutes. And, in a metropolitan area of 4.3 million that has a handful of professional sports teams, the university doesn't garner the same attention.
"The university is not the same priority as it was in Lexington," Longley said. "I miss the school spirit."
By Sarah Vos