The Power of Music
Sunday morning I awoke to the news that Whitney Houston had passed away.
(Photo credit: Size Doesn't Matter Blog)
I admit, it wasn't the newspaper that told me so, but rather the Facebook Status updates of friends who admire her. Updates such as "So Whitney died… sigh" and links to her performance of "Bridge Over Troubled Water" with Cece Williams led me to wonder what had happened.  As I read on to learn that she had died at the very young of 48, I was deeply saddened. Her music was the music of my youth, and many a night, I stayed up well past bedtime to listen to her albums on cassette tapes, (yes, cassette tapes!). They were some of the first cassettes I ever owned.  Some news accounts used juxtaposition to suggest her death came from a drug overdose, like many of the ill-fated stars before her (think Elvis Presley, Jim Morrison, Amy Winehouse, as noted by this article from the India times).
But a different juxtaposition came to mind for me. In 2003, I had come back to Israel to continue my research on Black Jewish identity, and as part of that trip, I spent some time with the Black Hebrew Israelites in Dimona. My visit had been preceded by Whitney's. Her visit became a point of reference and point of pride for the community, and in fact, all of Israel.  It was reported then in Haaretz, and it was remembered now, not just by me.
You can hear Houston and the Israelites singing the African American spiritual "Joshua Fit the Battle of Jericho" late in this video (listen to the end, it happens at around minute 2:00 after she and Bobby Brown are immersed in water) to get a sense of the enthusiasm she brought to the so-called "Promised Land" and the stir she caused when she arrived.
In Judaism, the desert represents the wilderness, a place where biblical protagonists encounter hardship and undergo significant, spiritual transformations (think Moses, the Israelites—a good 40 years of wandering. . . .).  As the media reported it, Whitney Houston was no stranger to this narrative, as she too went to the desert to find a kind of spiritual connection.  
Oddly enough, later on Sunday, Jim and I would hear this same spiritual performed again, this time live, by  U.S. soprano Nicole Taylor, who sang along with the  Magnificat Institute's young girls (and two boys!) choir  in the auditorium of St. Saviour's Monastery Auditorium, just inside New Gate of the Old City.  Thanks to the U.S. Consulate General's cultural center America House and the Magnificat Institute, this event took place to honor African American history month.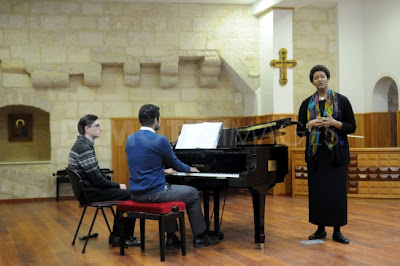 (Photo credit: Africlassical Blog. More photos of the event including the children's choir on Demotix)
It was breathtaking to be sitting inside the auditorium, with a window looking out on the walls of the Old City to our left, the room packed with E. Jerusalemites, Americans, proud parents of the children performing, diplomats from the consulate, and others who had heard about the event. There we were listening to young boys and girls, who were about the age I was when I first discovered Whitney Houston, only they were singing beautiful love songs in Arabic. [Listen here
for a short sound clip—unfortunately, it took me a minute to figure out how to use the video function on the pocket-camera, so it's cut off and does not include an absolutely amazing solo by one of the young women. Here's hoping someone else posts videos, which I can link to later).
Not a cell phone dared to vibrate, much less ring. It was one of the few times since we have been in this part of the world, that the beauty of the present moment was undisturbed by such interruptive intrusions. Ms. Taylor gave some words of explanation before she began her performance of African American spirituals.  First she sang on her own, then with the children, and then she invited the audience to participate in call and response fashion.  She opened with "This Little Light of Mine," accompanied by pianist and U.S. diplomat, Daniel Ernst. Along with the children and the audience, she sang "Couldn't Hear Nobody Pray."
The sound on my camera doesn't do justice to her voice or those of the children, nor can it capture the feeling of an entire room of people bringing their voices together to make beautiful sounds, in a place where just outside the New Gate you can see Israeli soldiers checking for identity cards, and a few blocks away the recently operative light rail whirs up and down old Jaffa Street. But for the hour and half that we were in the auditorium, the music transcended all that, whisking us away to a place of sheer beauty and awe.  Ms. Taylor spoke about the African American spirituals' universal messages of the human spirit's resiliency, and her voice reminded me of the power of song.  In a place where the Separation Barrier is visible and Jericho itself is a mere 43.4 km or 17 miles away in the West Bank, the lyrics, "and the walls come tumbling down" from "Joshua Fit the Battle of Jericho" take on a different, but equally powerful set of meanings.
I began this post with a discussion of juxtaposition and loss, and I'm closing with a repetition of my claim for music's power to overwhelm and transcend, even if only momentarily. Whitney Houston, whose songs "How Will I Know," "Greatest Love of All," and "I Wanna Dance with Someone" are etched into the hearts of many, will be deeply missed. I hope my testament to the power of song in a place that doesn't lack for beauty, but sure could use a little more harmony (bad pun intended) will stand as an appropriate memorial for the beloved pop Diva.