Eat, Eat, Eat
After settling into our new digs, we walked over to Shlomi's for a simple but satisfying meal of vegetable bean soup, borekas (delicious filled pastries, pictured below, photo credit: Jim Ridolfo), and pita on, oddly enough, Abraham Lincoln Street.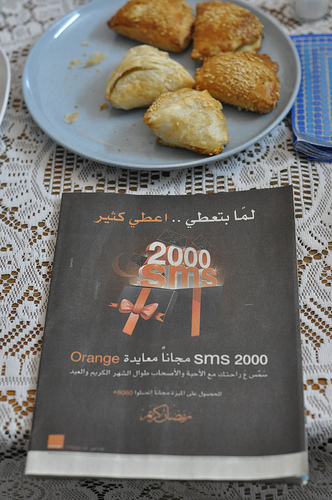 [Photo: Bulgarian-cheese filled borekas above, Arabic language ad for Orange cell phone company below, photo taken by Jim Ridolfo]
And eat, eat, eat is what we've continued to do. The weekend begins here on Thurs. evening and lasts through Friday until Saturday night at sundown, when the Jewish Sabbath comes to a close. Like the people living here, the city also pauses to rest a bit, as public transportation and most shops and restaurants shut down from Friday night sundown until three stars appear in the sky on Saturday night. Consequently, Friday morning is the time when people catch up with friends, and the city hums with life, as everyone bustles about to buy groceries and make preparations for the Sabbath.
We began our morning with a the local paper and some wonderful coffee and croissants at the shop down the street from our flat,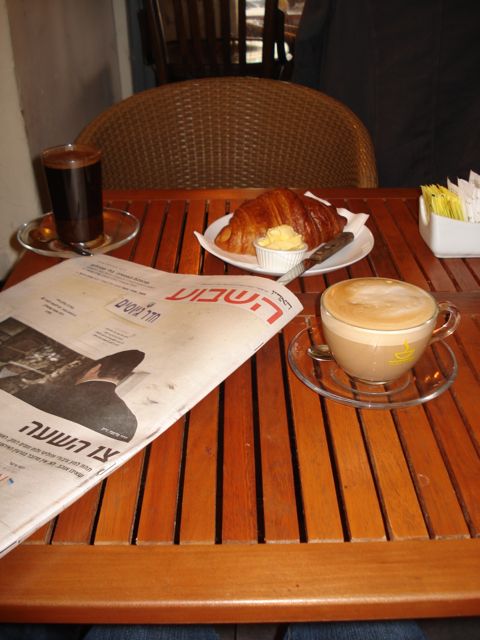 [Photo: Ha'artez, The Israeli equivalent of The New York Times, Cafe Shahur --black coffee Arabic/Turkish style, usually served with cardamon, croissant, Cafe Hafuch Soya--soy cappuccino]
Then, we wandered over to the YMCA to join the gym,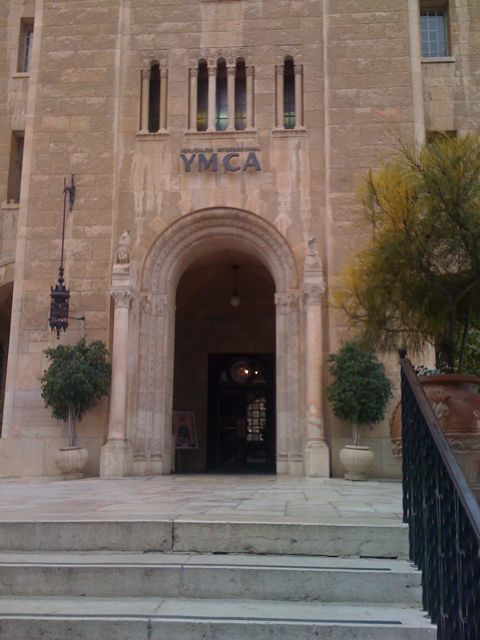 [Entrance to the Jerusalem YMCA]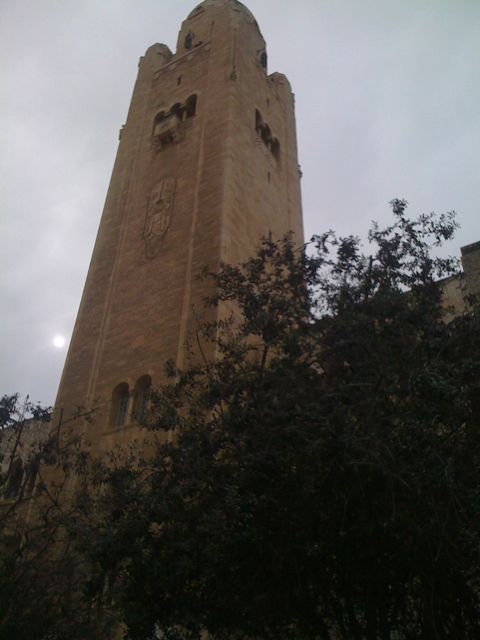 [YMCA Tower, Jerusalem]
and from there to Mahane Yehuda, the Shuk (open air market). 
Before we began our shopping, however, we took a break to enjoy a wondrous meal at Azura (in the Iraqi shuk adjacent to the big market.  Azura is one of the many small restaurants that serve amazing, slow-cooked comfort food.  They are most famous for their hummus and kubbeh soup. Kubbeh's deliciousness is hard to explain to someone who's never had it, but in simple terms it's a kind of semolina dumpling (which can be either boiled or fried, in soups, they become soft), usually stuffed with a spiced ground meat/pine nut mixture, and served in a soup which can be red (tomato-based) or yellow (lemony, spicy goodness). The mix of sour and savory flavors is out of this world. Kubbeh soup came to Israel by means of Kurdish and Iraqi Jews, and in fact, I once made Kubbeh soup under the careful instruction of a friend of a friend who was 3rd generation Kurdish Jewish. It took us an entire day, but was divine. Azura's kubbeh was no less other-wordly. When I ordered it, the owner looked at me with incredulity. He noted my light Ashkenazi skin and warned, "Ze harif!" ( It's spicy).  Yes, I know, I nodded excitedly in response.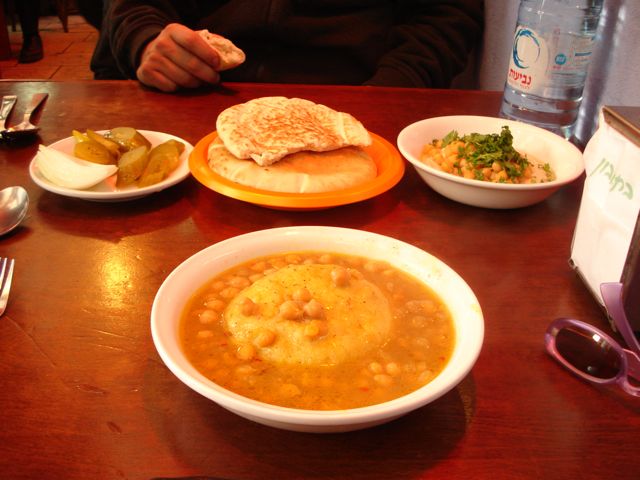 [Marak Kubbeh Hamousta (note big Kubbeh in the center, with soup and chickpeas), in the background--onion/pickles, fresh pita, hummus, at Azura]
Go ahead, drool. We sure did.
And to get a sense of how they make it, follow this Israeli following them at 5 am…He was an hour late for his 4am how-to make Kubbeh lesson! To get a sense of how crowded Azura's was on a Friday at lunchtime, watch this video…
In fact, the shuk was so crowded, neither of us dared to break out the camera to steal a photo, so for now, this photo from Skectches of Sifnos's blog will have to do: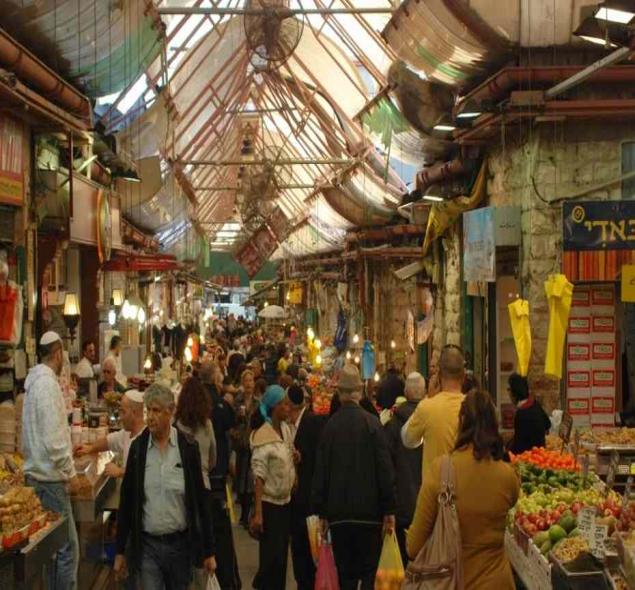 We waded through the sea of people, and bought the ingredients for a simple meal of red lentil soup, Challah and rugelach from our favorite bakery, Marzipan, and wine and beer to combat the jetlag and summon the Sabbath queen's joy. Then we headed across town, back to the flat, up the four flights of stairs.  We had accomplished our goals for the day—join the gym, power up the cell phones with Israeli sim cards, and buy food for the Sabbath. Modest goals, for sure, but it felt good to accomplish them, and in Hebrew, no less.  I found myself feeling very thankful for the simplicity of our lives, and the amount of physical activity involved in getting from point A to point B. We probably walked between 4-5 miles over the course of the day; it felt good to get home and start cooking. We even had the honor of a surprise Shabbos guest, Elijah the gecko who appeared unexpectedly (wandering in from the porch to get out of the cold, perhaps?) and fit in the palm of my hand.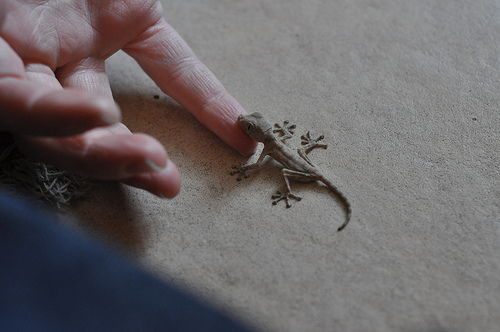 [Photo credit: Jim Ridolfo. Elijah the Gecko in our Jerusalem apartment]
We made and enjoyed our modest, but hard-earned meal, and as it came to an end, so did our day. After all the walking, we were tired, and off to sleep we went, resting up for another day and coming week of adventures.