University of Kentucky graduate, Col. James "Jim" Crider is currently serving as the G3 for the 3rd Infantry Division/Task Force Marne in Northern Iraq. In this, his third tour in Iraq, Col. Crider is planning, resourcing and synchronizing stability operations there. On September 1, 2010 he began primarily training, advising and assisting the Iraqi Security Forces. But his job includes dealing with other issues as well including regional relationships between the Arabs and the Kurds, securing the boarder, providing provincial reconstruction, and protecting American forces.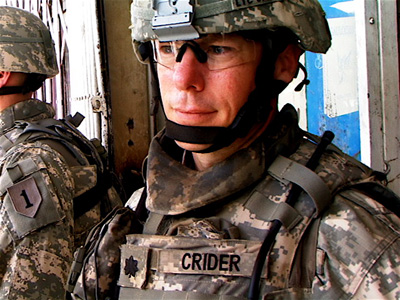 Currently nearing the end of his third tour, Col. Crider explains that each of his tours has been different. His first tour was with the 1st Brigade of the 101st Airborne Division during the initial invasion.
"I was able to witness much of the initial jubilation amongst the Iraqi population and then watch the insurgency develop as the summer of 2003 wore on."
For his second tour, he was the commander of 1-4 Cavalry during the Surge in Baghdad. He describes during 2007 the area of SW Baghdad looked "just short of hopeless" with the insurgency gaining ground but noticed a turn-around in 2008.
"The perspective makes me optimistic about Iraq today. While there is some frustration at the stagnation of government formation, the Iraqi Security Forces have continued to serve the population and improve each month."
His degree in political science from UK ('98) has been very useful in understanding the current political conflicts, and his time in the ROTC taught him that his career would be both rewarding and satisfying.
Though working with a friend in high school who was at Murray State in the ROTC, Col. Crider was nearing the end of his first semester when he wandered into Buell Armory to see the Ranger Den.
"The Cadet Ranger commander at the time had a high and tight with a Ranger Tab on his left shoulder and I knew inside that he represented what I wanted to be."
And a three-day FTX with a lot of walking and very little sleep let him know early on he was right where he wanted to be.
"After it was all over, I realized I had never felt so much satisfaction at facing a challenge and meeting it. Most importantly, I was impressed by the other cadets and the leadership of the cadre. I was sold."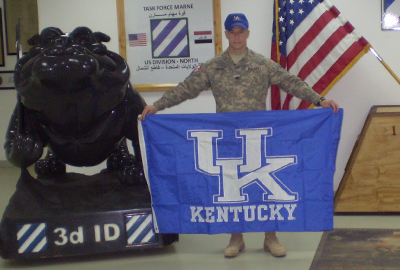 Life in the ROTC and at UK provided Col. Crider with lifelong friends including his wife Jill, who was his UK ROTC sweetheart and second lieutenant. As a die-hard Kentucky Basketball fan, he also used his time at UK to enjoy every home game in four years. And, while he jokes that he should have spent more time in the library, he enjoyed hanging out in the Ranger Den.
For the future soldiers from the ROTC program, he provided some sound advice.
"Decide what true selfless service really means now. Make those around you better. Soldiers deserve strong, competent leadership, so be prepared to provide it immediately. Tell soldiers that they are important and what they do matters."
by Ann Boden