Alyssa MacLean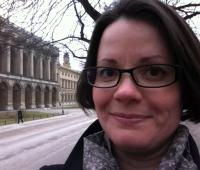 Education:
Ph.D. The University of British Columbia
M.A. Western University
B.A. McGill University
Research:
My current book project, "America's Canada: Hemispheric Literary Relations and the Construction of U.S. Citizenship, 1830-1865," offers a reassessment of the American Renaissance by exploring how nineteenth-century U.S. authors defined the concept of U.S. citizenship through their literary representations of Canada. Images of Canada-U.S. cross-border migration—specifically the 1755 expulsion of Acadians from Nova Scotia to the American colonies, and the antebellum migration of African Americans from the U.S. to Canada—offered U.S. authors the opportunity to interrogate the processes of racial formation, the relationship between imperialism and democracy, and the future of U.S. slavery. For many of these authors, Canada came to represent the fulfillment of the promise of democracy that the U.S. had failed to achieve.
Areas of Specialty:
Transnational studies
Nineteenth-century American literature and culture
African American literature
Canadian studies
Selected Publications:
"Canadian Studies and American Studies." A Concise Companion to American Studies. Ed. John Carlos Rowe. Oxford: Wiley-Blackwell, 2010. 387-406.